Are you looking for a power cage to add to your home gym or commercial setting? The Ritfit Power Cage might be just the setup you have been searching for.
One of the top pieces of strength training equipment that every serious bodybuilder and fitness buff needs is a good power cage. A power rack allows you to do heavy lifts, such as squats and bench presses, safely–not having to worry about dropping weights on yourself or having spotters. In addition, power cages are essential for organizing your area for attachments, accessories, and plates.
In this review, we'll look at how the high-performance and durable Ritfit Power Cage stacks up against its competitors. We'll break down its features, discuss its pros and cons, compare prices, and more. Let's begin!
Best Power Cages
Ritfit Power Cage: Specs
| | |
| --- | --- |
| Specs | Details |
| Model | PC-410 Max |
| Height | 84.3″ |
| Product Weight | 220LB |
| Uprights Capacity | 1000LB |
| J-Hook Capacity | 1000LB |
| Dip Bar Capacity | 350LB |
| Pull Up Bar Capacity | 300LB |
| Pulley System Capacity | 200LB |
| Plate Storage Capacity | 600LB |
| | |
| --- | --- |
| Plate Storage | Suitable for both 2" and 1" hole plates |
| Package | Sent in 2 separate packages |
| Footprint | 16.1SQFT |
Main Features
This multifunctional cage includes several components, such as a multi-grip pull bar, lat pull-down bar, sandwich J-hooks, safety pipes, and more.
Let's review all the features of the Ritfit Power Cage to help you decide if this is an ideal purchase for your home gym.
Multi-Grips Pull Bar (x1)
The multi-grip pull bar is perfect for arm exercises like narrow grip pull-ups and wide grip chin-ups.
It's made with heavy-duty steel that allows you to adjust the width of your grip.
The pull bar can handle up to 300 lbs in total weight capacity.
Lat Pulldown Bar (x1)
The lat pulldown bar targets your lats and triceps muscles while providing stability during exercise movements. It's on a strong steel bar with foam handles for added comfort during use and has a total weight capacity of 400 lbs.
Sandwich J-Hooks (x2)
The sandwich J-hooks are a great addition to the power cage setup since they offer secure support for weightlifting bars when not in use.
They're adjustable from 25mm – 50mm in height and max out at 1000 lbs in terms of weight capacity.
Pipe Safeties (x2) & Leg Press (x1)
This power cage also includes two pipe safeties that each have a 75lbs maximum load capacity so you can focus on core lifts without worrying about safety issues.
There's also an included leg press saddle with comfortable padding so you can extend your lower body workouts beyond squats & deadlifts.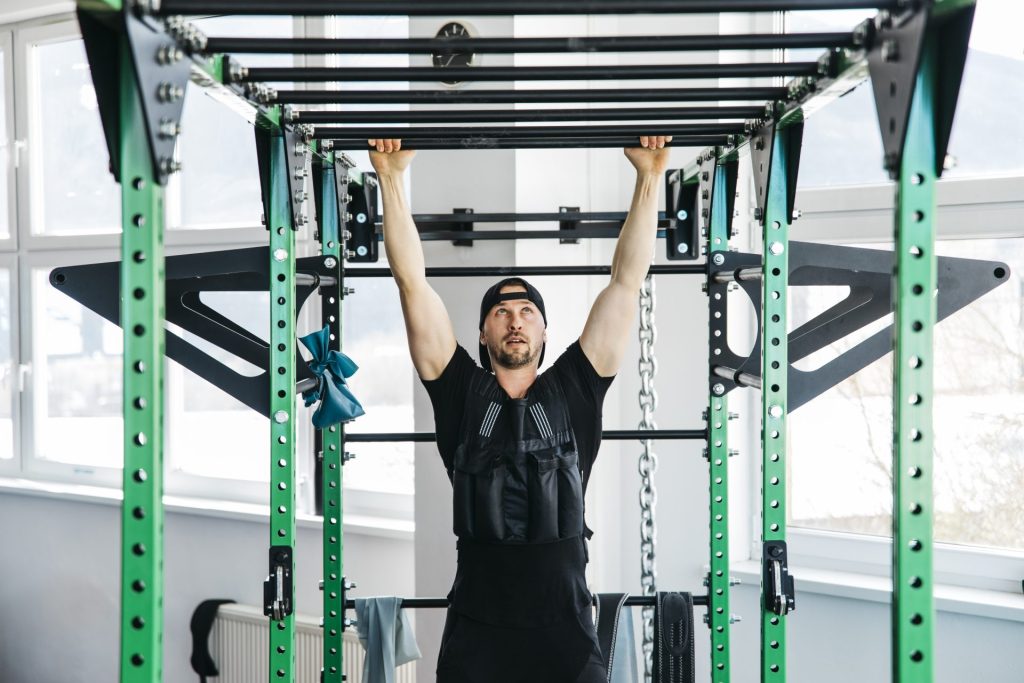 Pulley System (x1)
The pulley system allows users to lift weights using cable systems like seated rows or bicep curls. It features durable tubular steel cables and bearings that are smooth enough for easy movement during exercises.
This will allow you to perform various upper-body reinforced weightlifting exercises without any problems.
Attachable Dip Bars (x2)
Dips are perhaps one of the most important upper body exercises around – which is why this power rack comes with attachable dip bars so every user has access to them!
Both dip bars have dense rubberized hand grips that make single-leg dips easier than ever before!
With total load weight capacity maxing out at 350 lbs each, these pairs are a great addition to any indoor gym or professional strength training facility!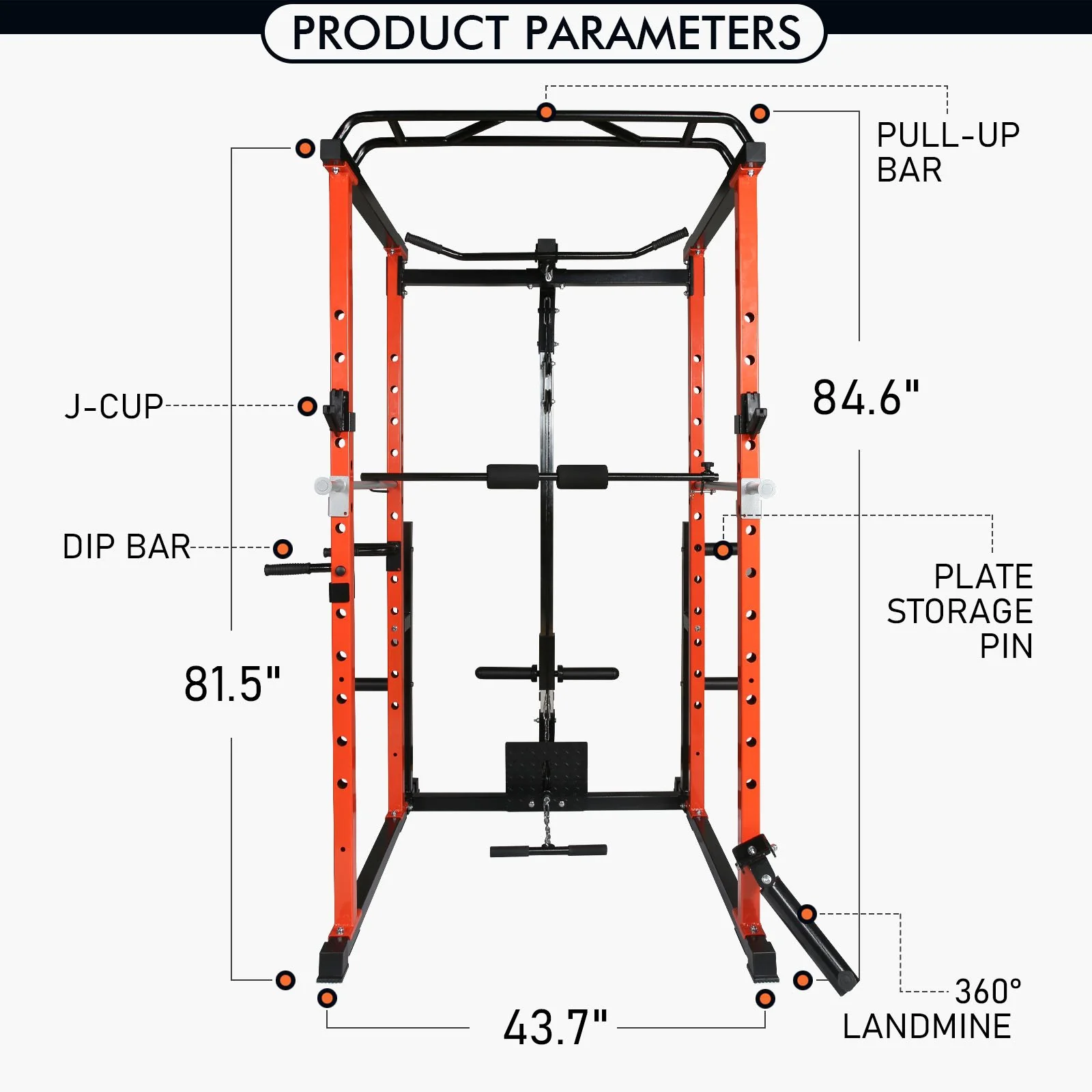 Quick Load Plate Storage (x2)  
These plate storage posts feature an easy, quick-loading design that makes it easy for users to store their weights securely within seconds!
Plus, it's constructed from heavy gauge steel frames, making them solid enough to hold up to 600 pounds each time! Keep all your plates paired up easily by taking advantage of this feature today! 
Landmine & T-Bar (x1)
The landmine & T-bar is great equipment if you want to add a variety of strength routines and open-ended platforms movements like farmers' walks, plank variations, frontal squats rowers, etc. 
Importance Of Having A Power Cage In A Home Gym
There are several reasons having a power cage in your home gym is important:
Safety
The most important reason for having a power cage in your home gym is safety. Lifting heavy weights without a spotter is risky, and accidents can happen.
A power cage provides a safe environment for lifting heavy weights by allowing you to set the safety bars at the appropriate height to catch the weight if you can't complete the lift.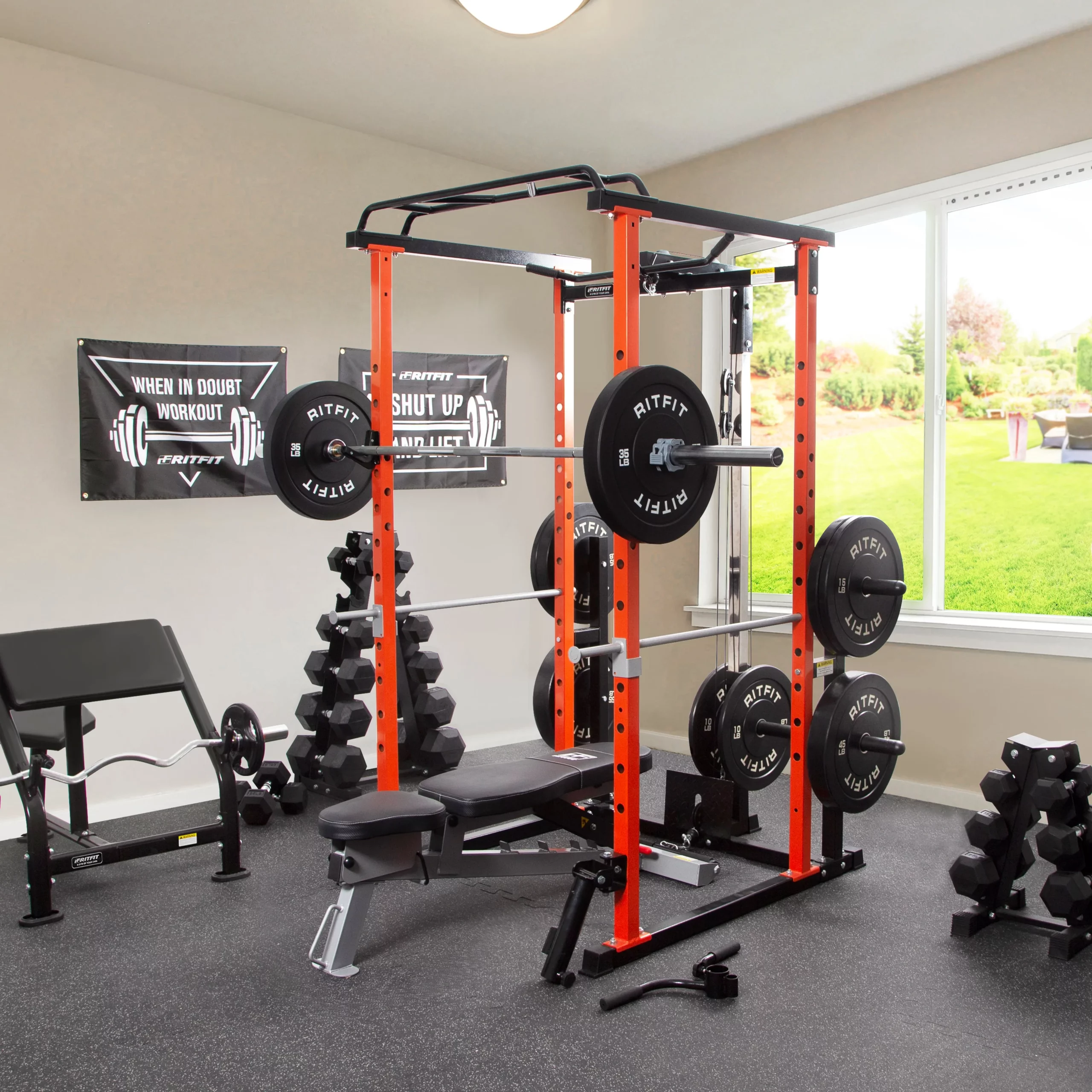 Versatility
A power cage is a versatile piece of equipment that allows you to perform a wide range of exercises, including squats, bench presses, pull-ups, and deadlifts.
By having a power cage in your home gym, you can save money and space by not having to purchase multiple pieces of equipment.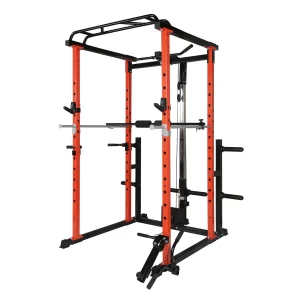 Progression
A power cage is essential for making progress in your strength training. It allows you to lift heavier weights safely, which is crucial for building strength and muscle mass.
Without a power cage, you may be limited in your progress, as you'll be hesitant to lift heavier weights without a spotter.
Convenience
Having a power cage in your home gym is convenient because you don't have to leave your house to go to the gym.
You can work out whenever you want, without having to worry about gym hours or waiting for equipment to become available.
Cost-effective
In the long run, having a power cage in your home gym can be cost-effective.
Gym memberships can be expensive, and purchasing multiple pieces of equipment can add up quickly. Investing in a power cage for your home gym is a one-time expense that can save you money in the long run.
Ritfit Power Cage Pros
Design And Construction
The Ritfit Power Cage is made from a heavy-gauge steel frame with a powder coat finish for superior durability and strength.
It features seven adjustable weight horns at varying heights so you can customize your workouts.
The cage also includes sturdy J-hooks, dip bars, and an adjustable pull-up bar for added convenience during your workout sessions.
Another great feature of the Power Cage is its low-profile design, which allows it to fit in spaces where other cages won't fit.
Training Benefits
As mentioned above, the Power Cage has many features that make it suitable for different exercises, including:
bench presses

shoulder presses

overhead pressing movements

hamstring curls

pull-ups
It also contains various safety mechanisms such as oversize J-hooks so you can feel secure when performing certain strength exercises like deadlifts or bent-over rows.
And because all the elements are adjustable, you can easily customize your workout routine according to your own fitness goals and skill level.
Low Maintenance
The Power Cage requires very little maintenance because of its simple yet strong design,  however, occasional lubrication will be required for optimal performance.
The Powder coat finish also adds durability to ensure this cage lasts longer than most other brands on the market today. It comes with clear assembly instructions making setup a breeze!
Ritfit Power Cage: Cons
Expensive purchase price compared to other power cages on the market

Takes up a lot of space in your home gym, which may mean compromising on other equipment
Higher risk of injury because of the heavyweights involved–must be used responsibly with proper form and technique.
Overall Review
Whether you're an individual looking to enhance their home gym or a facility searching for quality equipment at an affordable price point – look no further than the RitFit Power Cage! This is one versatile piece of exercise hardware that offers stability, versatility, and low maintenance requirements – giving you more bang for your buck!