Looking to switch up your deadlift routine? Maybe you're experiencing discomfort or simply looking for a new challenge. Whatever the reason, incorporating a trap bar could be the solution you're seeking.
Trap bars have become increasingly popular in recent years and for good reason. This hexagonal shaped bar can provide greater comfort, reduced injury risk, and increased strength gains compared to traditional straight bar deadlifts.
When it comes to selecting the best trap bar for your needs, it can be overwhelming with various options on the market. But don't worry, we've done the research and compiled a list of some of the top trap bars on the market to help you make an informed decision. Keep reading for our recommendations on the best trap bars for deadlifting.
Best Trap Bars For Deadlift
4 Best Trap Bars For Deadlift
The RitFit Detachable Olympic Trap Bar is the perfect tool for any athlete looking to build strength and develop power in their deadlifting technique. This versatile bar can be used for several diverse body workouts, making it an indispensable part of any fitness routine.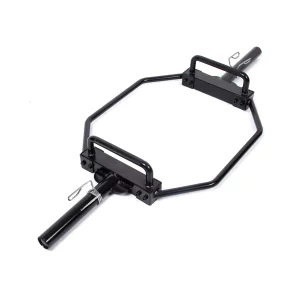 The ergonomically designed handle spread measures 22.8 inches, providing the ideal grip size for smoother exercise progressions. Crafted from long-lasting steel material, this solid bar weighs 47 lb, enabling you to lift heavier weights with better stability and control during intense deadlifts or shrugs squats, etc. 
Product Features: 
Versatile body workouts including deadlifts and shrugs squats etc.

Ergonomically designed handle spread measures 22.8 inches for improved grip size
Made from a durable steel material that's built to last
A total weight of 47LB gives more stability when lifting heavy
The attractive black E-coat finish improves the appearance and prevents rust accumulation
Get the most out of your weightlifting routine with the RitFit Olympic Hex Bar. Built for strength and designed for comfort, this Hex Bar can hold up to 750 lbs. Its bright chrome color instantly stands out in any home or gym setting.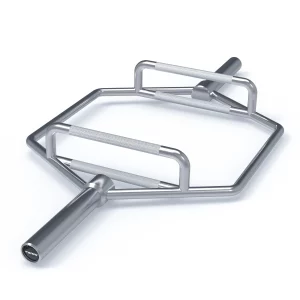 The ergonomically angled handles are positioned at 23° from vertical which prevents spinal shear when deadlifting and allow you to target your lumbar spine and quadriceps as you perform core exercises like deadlifts, bent-over rows, squat jumps, and more. With its 47lbs product weight, it's easy to maneuver for versatile strength training. 
Product Features:
The bright chrome-color design creates a stylish look in any gym or home.

Ergonomic design allows users to target their quadriceps and lumbar spine safely while performing various exercises like deadlifts, bent-over rows, squat jumps, etc.
Hexagonal shape helps keep stability during workouts so the bar won't spin when loaded with weights up to 750 lbs.
47 lbs weight makes it a great portable option that can be easily moved between locations as needed.
The versatile tool helps increase weight while correcting form as you work out keeping you safe while making sure you get the most out of your efforts!
The Elevens Hex Bar Trap Bar Deadlift is the perfect tool for targeting and strengthening core muscles and enhancing total body strength. This widely used hex bar is most commonly used for shrugs and hard pulls, but can also be used for floor chest presses, farmer's carries, burpee jumps, plate supports, and other exercises.
Constructed from a heavy-duty steel material with an anti-rust chrome finish, this trap bar has a 300lbs weight capacity and 2 an Olympic Weightlifting Bar Shrug Bar for use in your home gym. 
Product Features:
Most commonly used for shrugging, deadlifting, and hard pulls but it can be used for various other exercises as well.
Heavy-duty steel construction with an anti-rust chrome finish.
Unique hexagonal shapes make it safer to use than a traditional straight barbell.
Ergonomically designed handles offer maximum control during lifts.
2in Olympic Weightlifting Shrug Bar included accommodating added weights.
Can handle up to 300lbs of weight; great for varying levels of exercise intensity.
Perfect addition to home gyms or professional fitness settings.
Easy maintenance and simple assembly process.
With the Kipika Barbell Olympic Trap Bar, you can perform various exercises such as squats, deadlifts, and shrugs with ease. This bar is built with a solid 2-inch steel sleeve that offers a 1000-lb weight capacity when paired with any Olympic plates.
For added comfort and extra support, it also features folding handles that allow you to adjust the length of the bar as well as set up multiple handle positions while lifting. For convenience purposes, it even includes a stand that can hold plates when not in use.
The trap bar is coated in E-Coat Steel to protect against scratches and rusting. Moreover, Kipika is dedicated to your satisfaction.
If dissatisfied, there's a full refund within 30 days or customer service will resolve all problems.
Product Features:
Hex Bar with stand and folding handles for Olympic weight lifting and powerlifting exercises.
US patent pending design by KIPIKA.
Solid 2-inch steel sleeve for maximum durability.
1000lbs weight capacity supports any Olympic plates.
Adjustable folding handles allow for customization accordingly.
E-Coat Steel protects from scratches and rusting.
Robust stand to help store any unused plates.
Full refund within 30 days or customer service resolve all problems.
When it comes down to finding a suitable hexagonal or trap bar for performing deadlifts safely and effectively, there are several factors to consider such as construction quality, handle design, and size compatibility among others mentioned above before settling on one product over another based on your needs/preferences/budgetary constraints – but hopefully, this list can help make that decision easier!
What To Look For In Trap Bars For Deadlift
If you are in the market for a trap bar, here are some considerations that will help you choose the best one for your needs:
The Load Rating Of The Trap Bar
When selecting a trap bar, it is important to make sure it has an appropriate load rating or weight capacity. If you plan on lifting heavier loads, then you should look for a trap bar with a higher load rating. One way to find good-quality bars is by looking up user reviews and ratings before buying them.
The Design Of The Key Components
When selecting a trap bar, also consider its key components such as grips, sleeves, and knurls. The handles should be comfortable enough to allow movement without causing discomfort or pain during exercises. Also, check out how wide the sleeves are because this will affect how much weight can fit on each side at one time.
Grip Angle And Width
Grip angle refers to the way the hands grasp onto the bar when performing an exercise like the deadlift. So you must select a trap bar with good grip angles so that your hands will be in their best position while exercising.
You also want to make sure that there is enough space between your hands while they're gripping onto the handle, making sure they don't rub against each other uncomfortably when doing deadlifts or other exercises with this piece of equipment.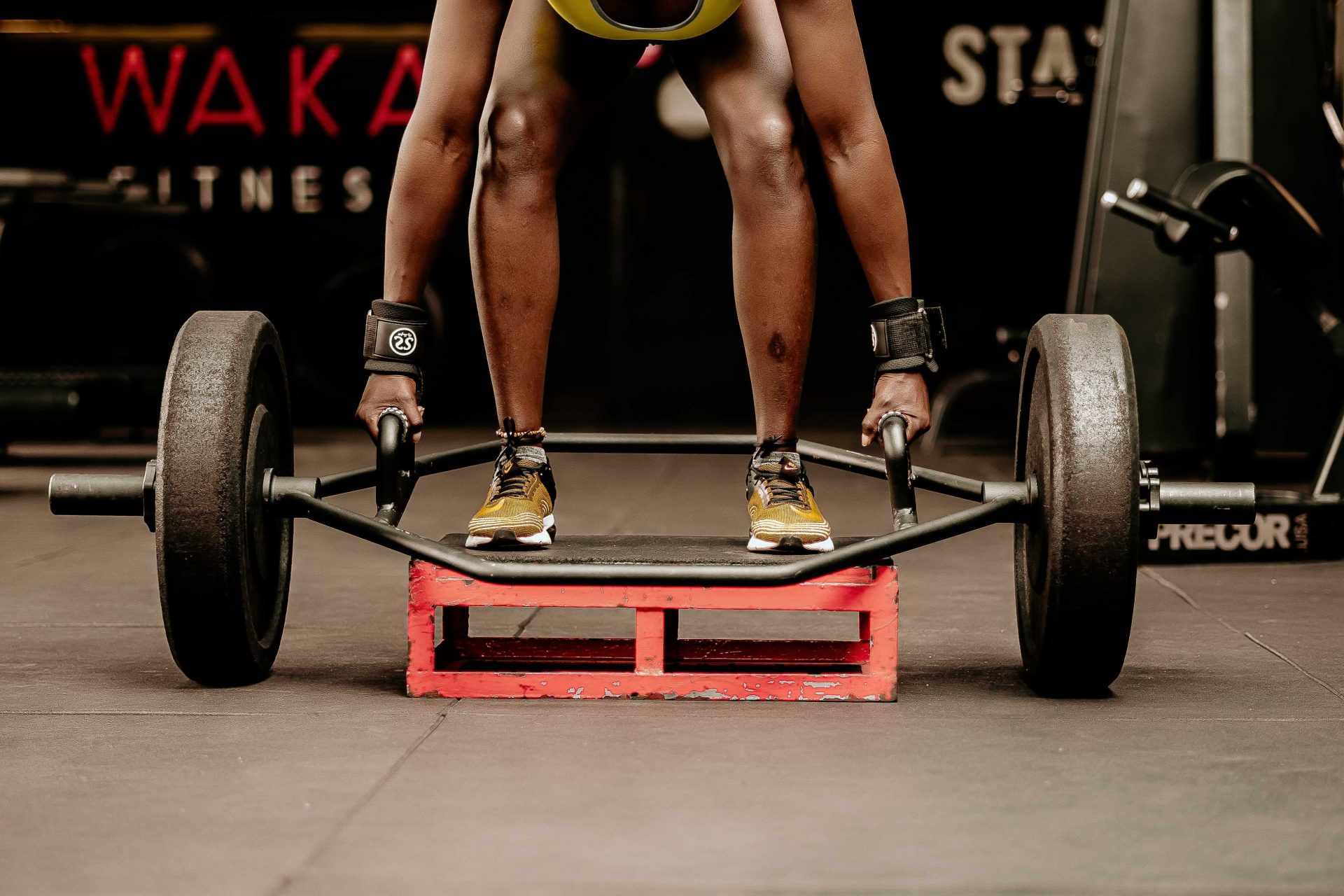 Stability During Exercise
It's important to select a trap bar that provides good stability during use, especially when using heavier weights for weighted exercises like squats and stiff-legged deadlifts.
Make sure that the frame is sturdy enough for your needs and won't bend or break under pressure from heavyweights being loaded on it during movements like deadlifts or squats.
Look for ones made from durable materials like steel which can withstand extreme force without bending or deforming when in use – these typically provide better stability compared to those made from lighter materials like aluminum.
Price Range
Finally, consider how much money you want to spend on your new trap bar as well as what type of features would suit your specific budget range best before selecting one off-the-shelf model or having one custom-built by experts.
Remember though – cheaper doesn't always mean worse quality!
Wrapping Up
The best trap bars for deadlifting are those that provide strong, comfortable handles, adequate heft to challenge your strength levels, and secure steel construction.
Whether you're looking for a traditional Olympic Hex Bar, a Combination Hex and Trap Bar like the RitFit Detachable Black E-Coat Olympic Trap Bar, or something more specialized like the Kipika Barbell Olympic Trap Bar, it's important to choose one that helps you reach your fitness goals safely and effectively.
All of these bars offer quality construction and durability, so you can rest assured that whichever option you select will help you get the most out of your workouts.