When it comes to exercising at home, a quality elliptical machine is a way to go. Ellipticals are popular for their low-impact workouts that can help you burn calories and get fit without straining your joints or having to go to a gym. For those living in apartments, an elliptical is an especially great option because most models don't take up too much space and won't disrupt your neighbors. 
But with so many options available, choosing the right model can be tricky. To make the search easier, we rounded up some of the best ellipticals for apartments on the market today. From budget-friendly models to high-end ones that come loaded with features, there's something for everyone here. 
We also made sure each one has a smaller footprint than standard machines, so you can easily fit them in tight spaces like hallways and bedrooms. Get ready to work up a sweat and reach your fitness goals with one of these incredible ellipticals for apartments!
The Best Ellipticals For Apartment Living 
The Stamina InMotion E1000 is a great entry-level elliptical for small spaces like apartments.
This lightweight machine weighs only 24 pounds, making it easy to move around and store when not in use.
It has adjustable tension levels, and a multi function monitor built into the console, with textured pedals.
Plus, this model has priced fairly affordably (under $200).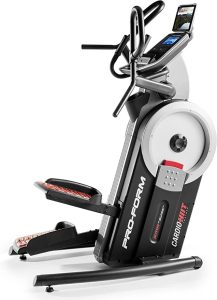 The ProForm Cardio HIIT Trainer is perfect for those looking to maximize their workouts in a small space.
This compact elliptical machine has adjustable incline levels of up to 20%, heart rate monitor, multifunction handlebars, as well as 24 resistance levels so you can challenge yourself.
There's also an auto-breeze fan and tablet holder built into the console so you can watch videos while you work out and stay cool at the same time!
Plus, this model is Bluetooth enabled, allowing you to sync with various fitness apps like iFit.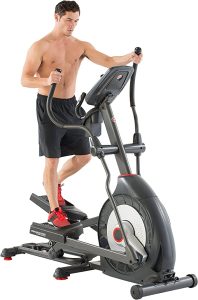 The Schwinn 470 Elliptical Machine is another great option for apartments. This model features 25 levels of resistance with four user profiles that allow multiple people to use it at once.
There's also an LCD where you can track all your stats like calories burned, distance traveled, and more!
Plus, this machine comes with Bluetooth speakers so you can listen to music while working out or connect with online fitness communities like Zwift or Peloton Digital App (sold separately).
And despite its impressive features, it still fits comfortably into smaller spaces like most apartments due to its low profile design.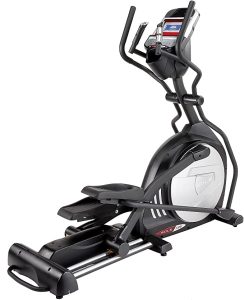 The Sole Fitness E25 is another great option if you're looking for an elliptical for your apartment.
It has a 25-pound flywheel that provides smooth and quiet operation, so not only will it fit perfectly into your apartment but it won't disturb anyone else in the building either!
It has 20 levels of adjustable resistance which allow users to customize their workouts and make them as challenging as they want them to be.
Additionally, this model offers 10 preset programs as well as two user profiles so that multiple users can track their workout information separately. Finally, other features include an easy-to-read 6.25-inch blue LCD display, built-in fans, and pulse grip sensors so that you can monitor your heart rate during workouts too!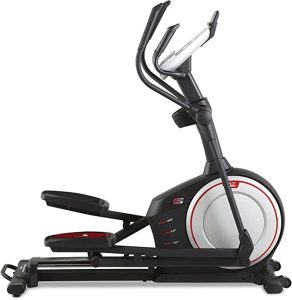 This is one of the most popular ellipticals on the market today, and it's perfect for apartments. With its adjustable stride length of 18-22 inches, it can accommodate people of any height.
The Endurance 520 E also has 18 digital resistance levels to challenge your workout as you progress.
Plus, it has 20 built-in programs that adjust automatically depending on the program you choose, heart rate, water bottle holder and AC adaptor included.
The console also includes iPod compatibility so you can listen to your favorite tunes while working out! Finally, it comes with a front transport wheel so that moving it in or out of your apartment is a breeze. 
What Is An Elliptical Machine? 
An elliptical machine is a piece of fitness equipment that combines aspects of running, walking, and climbing stairs.
It provides a great cardiovascular workout while also working your:
arms,

legs,

chest,

and core.
The motion of the machine replicates a smooth running motion without any jarring movements or impacts on your body.
This makes it ideal for people who have joint issues or just want to ease into their exercise routine.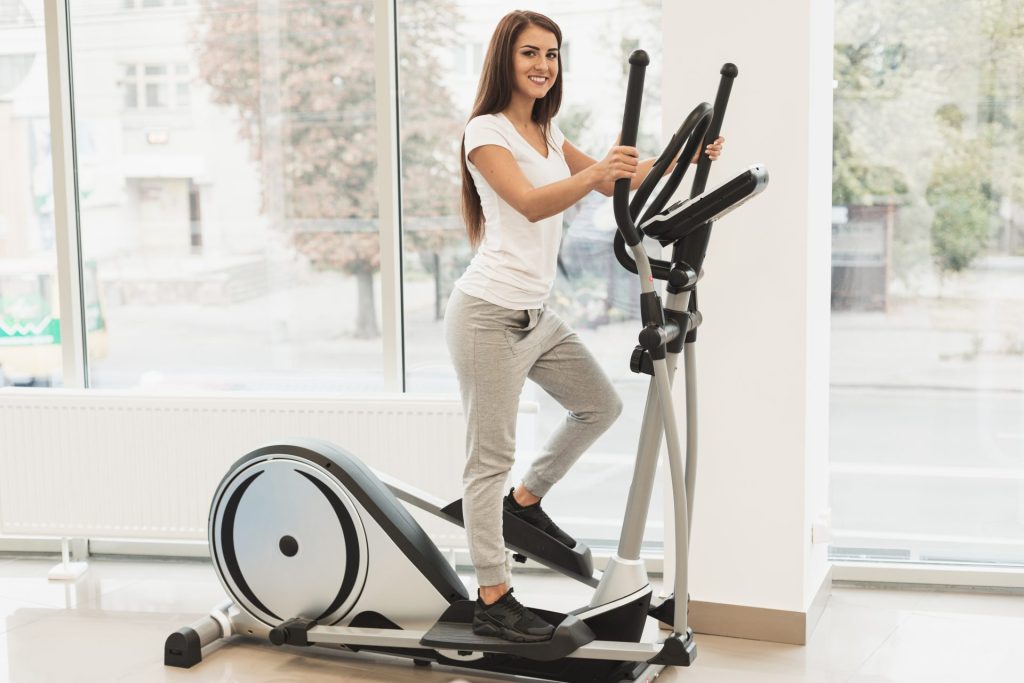 How Does An Elliptical Work? 
At its core, the elliptical consists of two handles connected to pedals that move in an ellipse shape (hence the name).
As you move one foot forward, your other foot moves backward in a continuous movement. You can adjust both the speed and resistance levels to customize your workout intensity as desired.
Most machines also come with various programs and settings so you can adjust them as needed for different levels of difficulty each time you use it.
You can even monitor your heart rate by holding onto the sensor-equipped handles during use.  
The Ultimate Apartment Elliptical Guide: What To Look For 
To make sure you get the best elliptical for your needs, here's an overview of what to look for when choosing a machine for an apartment setting. 
Quiet Operation And Low Vibration Levels 
This is an important factor for any machine, but especially if you live in close quarters with other people who might be bothered by loud equipment or rattling vibrations.
Ellipticals usually come with some kind of sound rating, so check that before making your purchase.
Many models also come with rubber feet pads which help reduce vibration levels and minimize noise from the machine when in use.  
Size And Portability 
Make sure you measure the space where you plan to put the elliptical before buying one.
Most machines have a relatively small footprint (the area they take up on the floor), but they can also be tall depending on their design and features.
Portable models may also be more suitable if you need to move them around frequently or store them away when not in use.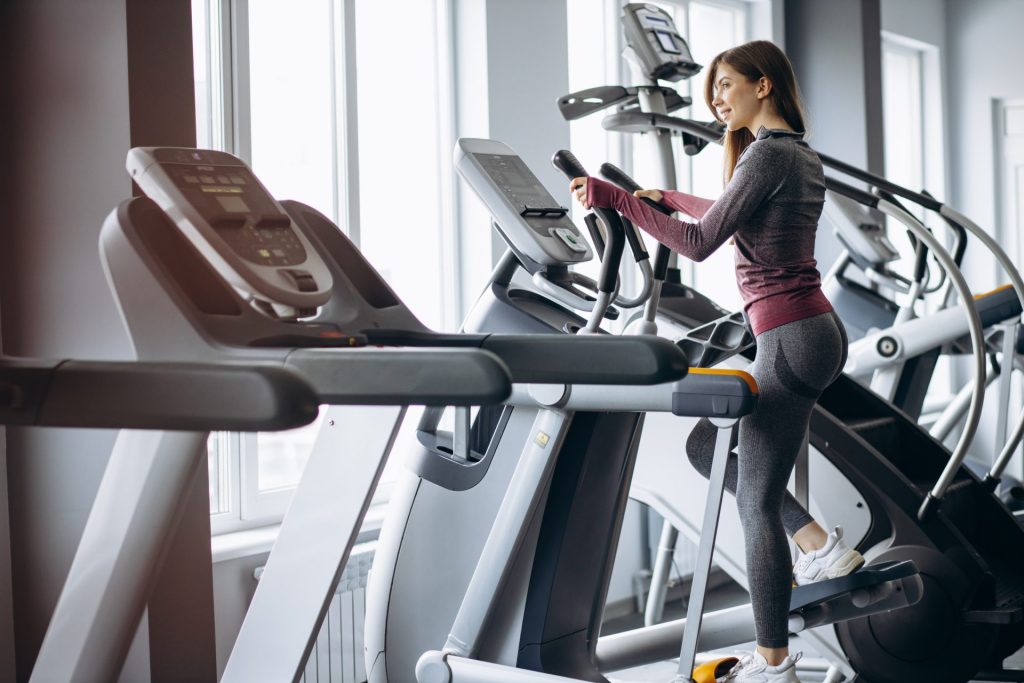 Stability And Weight Capacity 
Ellipticals should feel stable even at higher speeds or inclines as this will give you a smoother ride and help prevent injuries from occurring due to instability or imbalance during your workout.
Likewise, make sure that the weight capacity of the machine matches your weight as well as anyone else who might use it regularly so that it won't wobble or break down over time due to excessive strain.  
Programs, Features, And Accessories 
Some machines come with additional features such as preset programs, heart rate monitors, resistance levels, etc., while others may offer more basic features like adjustable speed settings and simple display readouts.
If there are specific programs or accessories that you want on your elliptical, make sure that they are included in whatever model you choose before purchasing it.
Wrapping Up
Overall, the best ellipticals for apartments are those that come with features such as low-impact technology, adjustable stride lengths, and easy storage. With these features, an elliptical can provide a safe and effective workout in any home or apartment space.
Whether you're looking to get a full-body workout or just want to focus on lower-body exercises, an elliptical machine can help you reach your goals without taking up too much of your living space. Plus, with so many different models on the market today, there is sure to be one that's perfect for you and your home gym needs.
For a smooth experience at home without sacrificing your budget or floor space, consider investing in an elliptical for apartments.