Are you looking to take your weightlifting game to the next level? If you're serious about lifting, you know that having the right equipment is essential to your success. And for weightlifting shoes, choosing the right pair can make all the difference.
Weightlifting shoes have become increasingly popular over the years, with many athletes and enthusiasts recognizing their benefits. These shoes are designed to provide support, stability, and improved performance during lifting exercises.
TOP 5 Weightlifting Shoes
With so many options available, it's overwhelming to choose the right pair. However, finding the best weightlifting shoes for your needs can have a significant impact on your overall performance. In this article, we'll explore some of the top weightlifting shoe options on the market, along with their features and benefits. Whether you're a seasoned lifter or just starting out, these shoes can take you to the next level.
7 Best Weightlifting Shoes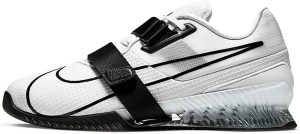 Nike has long been synonymous with athletic excellence, and the Nike Romaleos 4 weightlifting shoes live up to that reputation.
These shoes offer exceptional stability, thanks to a wide and solid base.
With a midfoot strap and a reinforced heel, they ensure a secure and locked-in feel during heavy lifts. The Romaleos 4 also features a flexible forefoot, allowing for better movement and comfort during dynamic lifts.
The Adidas Adipower weightlifting shoes are a popular choice among weightlifters for their excellent performance and durability.
These shoes boast a raised heel and a TPU (thermoplastic polyurethane) wedge, providing a stable base for improved squatting and lifting mechanics. The Adipower's lightweight design and supportive upper make them an ideal choice for Olympic weightlifting and CrossFit workouts.
Designed in collaboration with professional weightlifters, the Reebok Legacy Lifter II combines functionality, style, and performance.
These shoes offer a sturdy foundation with a raised heel and a wide platform, ensuring stability and power transfer. The TPU heel clip provides enhanced stability during heavy lifts, and the Flexweave upper offers breathability and durability.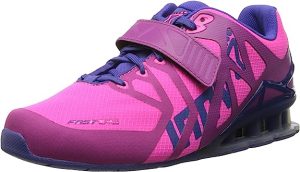 For those seeking a lightweight and versatile option, the Inov-8 Fastlift 335 weightlifting shoes deliver on both fronts.
Featuring a sticky rubber outsole and a flexible forefoot, these shoes offer excellent traction and mobility.
The raised heel and secure midfoot strap contribute to stability and support, making them suitable for a range of lifting movements.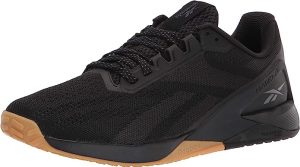 While primarily known as a versatile cross-training shoe, the Reebok Nano X1 Grit offers impressive performance in weightlifting as well.
These shoes provide a stable base with a raised heel and a wide toe box, allowing for optimal squatting and lifting mechanics.
The Floatride Energy Foam cushioning and the woven upper offer comfort and breathability, making them suitable for both lifting and dynamic training.
For beginners or budget-conscious lifters, the Adidas Powerlift 4 provides a cost-effective option without compromising performance.
These shoes offer a raised heel of 15mm for improved squatting mechanics and stability.
The lightweight design with a rubber sole and synthetic upper ensures flexibility and breathability, making them suitable for a range of strength training exercises.
The Nordic Lifting Megin is a budget-friendly weightlifting shoe that still delivers on quality and support.
The shoe features a flat rubber sole for maximum surface area, as well as a padded collar and tongue for added comfort.
The Megin is a great option for beginners or anyone on a budget who still wants a reliable weightlifting shoe.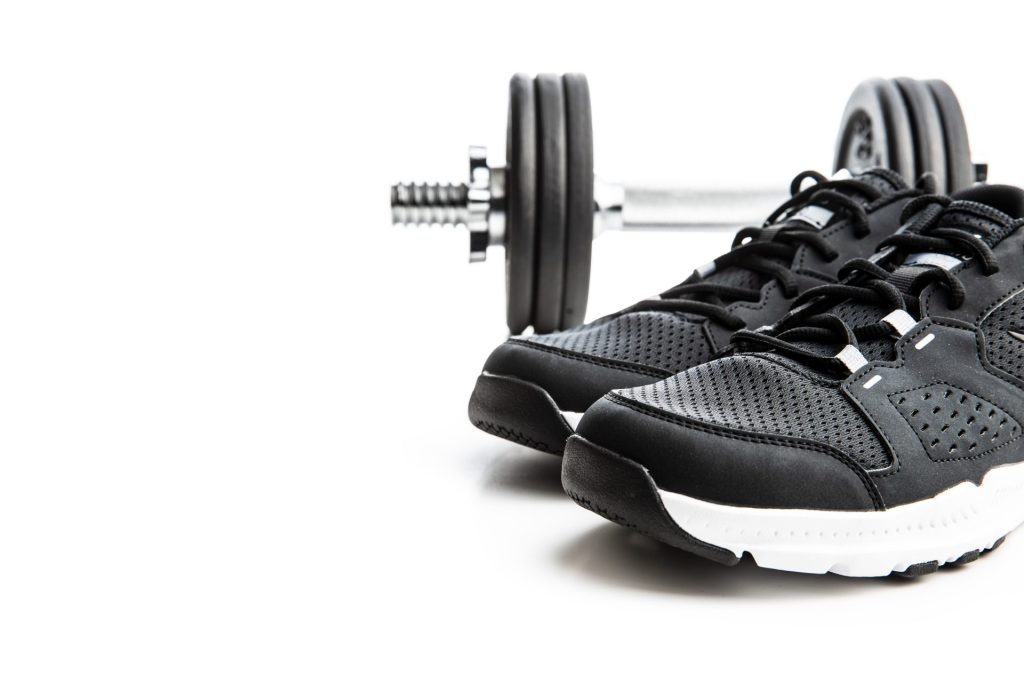 How To Pick The Best Weightlifting Shoes
With so many options available in the market, choosing the right pair of weightlifting shoes can be a daunting task.
Here are some factors to consider when choosing weightlifting shoes:
Foot Type And Arch Support
The first factor to consider when choosing to wear weightlifting shoes is your foot type. If you have flat feet, you need shoes with good arch support to prevent overpronation.
For high arches, shoes with cushioning are necessary to absorb the shock of landing during your workout. It's essential to choose a shoe that supports your natural foot structure.
B. Heel Height And Flexibility
The heel height of the shoe plays a significant role in weightlifting. A higher heel drop angle allows you to get lower in your squat, making it easier to engage your quads.
However, heels that are too high can interfere with the proper alignment of your knees and hips. Shoes with a flexible sole allow for better mobility and help you to maintain proper form during your lifts.
C. Sole Material And Grip
The sole material and grip determine how stable and secure you are in your lifts. Shoes with hard soles provide better support, while shoes with soft soles allow for greater flexibility. The outsole should have a sturdy grip to prevent slipping and sliding during lifting exercises.
D. Shoe Construction And Durability
Weightlifting shoes need to be sturdy and durable enough to withstand the rigors of regular use.
Shoes with reinforced stitching and durable materials will last longer and offer better support during your workouts.
Also, look for shoes with secure straps or laces to keep your feet stable and secure.
E. Personal Preferences And Training Goals
Finally, consider your personal preferences and training goals when choosing to weightlift shoes.
Do you prefer a traditional lace-up design or shoes with straps? Are you looking for a shoe that provides extra ankle support?
Consider your training goals.
If you're serious about Olympic weightlifting, shoes specifically designed for that type of activity will be your best choice.
Some Frequently Asked Questions
How Should Weightlifting Shoes For Wide Feet Fit?
Weightlifting shoes for wide feet should fit comfortably without being too tight or loose. The shoes should provide enough room in the toe box to allow your toes to wiggle slightly.
Additionally, they should provide ample support and prevent any excessive foot movement within the shoe during lifts. It is essential to try on different sizes and brands to find the best fit for your wide feet.
Are There Any Specific Brands That Are Known For Their Women's Weightlifting Shoes?
Yes, there are several brands that are known for their women's weightlifting shoes. Here are a few popular ones:
Nike Romaleos: Nike is a well-known brand that offers a variety of athletic shoes. Their Romaleos line is specifically designed for weightlifting and provides excellent stability and support.
Reebok CrossFit Lifter: Reebok is another popular brand that offers a range of athletic shoes. Their CrossFit Lifter line is designed for CrossFit athletes and offers a snug fit with excellent stability and support.
Adidas Powerlifting Shoes: Adidas is a well-respected brand in the athletic world, and its powerlifting shoes are no exception. Their shoes offer excellent support and stability, especially for squats and deadlifts.
These are just a few examples of brands that are known for their women's weightlifting shoes. It's important to choose a shoe that provides the right amount of support and stability for your individual needs and preferences.
What Features Should I Look For In Weightlifting Shoes For Flat Feet?
When searching for weightlifting shoes for flat feet, consider the following features:
Arch support: Look for shoes that provide ample arch support to help maintain proper foot alignment.
Firm midsole: A firm midsole helps distribute weight evenly and provides stability for flat feet.
Raised heel: Weightlifting shoes with a raised heel can improve ankle mobility and allow for a better squatting technique.
Wide toe box: Shoes with a wider toe box accommodate the natural width of the foot, providing comfort for flat feet.
Conclusion
When it comes to weightlifting shoes, there is no one-size-fits-all option. However, by considering factors such as stability, support, comfort, and fit, you can find the perfect shoe for your lifting needs.
The shoes listed above are all excellent choices that can help to enhance your performance in the gym, so pick one that fits your needs and get ready to crush your next lifting session!