Are you trying to stay fit during the pandemic but finding it hard to get motivated to get out of bed and keep your workout going? A walking pad may be an ideal way for you to exercise indoors, in the comfort and convenience of your own home. 
Walking pads have become increasingly popular over recent years due to their convenient size and portability. They offer many benefits such as increased weight loss, improved heart health, lower blood pressure levels, improved muscle tone, and stress relief by simply walking on a smooth flat surface. Many people find that they are an easier alternative compared to a treadmill– especially if you don't have much room in your apartment or house. 
Best Walking Pads (treadmills)
If you're looking for the best walking pad for your small apartment space, you must compare features and consider the size, weight capacity, affordability, and user reviews before making a purchase.
To help narrow down your choices, we've compiled a list of the top walking pads available today. Read on to learn which one could be the ideal treadmill for you!
What Is A Walking Pad? 
A walking pad (also known as an electric treadmill) is a compact and lightweight running machine that fits easily into small spaces such as apartments.
Our TOP picked walking pad consists of a flat surface with a conveyor belt that moves when you step on it.
Walking pads are designed to be compact and easy to store, making them a popular choice for people who don't have a lot of space for exercise equipment.
It works similarly to a traditional treadmill but is much more compact, typically ranging in size from 4 to 5 feet in length. Its main purpose is to aid with low-impact aerobic exercises such as walking or light jogging. 
Best Walking Pads For Small Apartments 
Here are some of our top picks for the best walking pads on the market: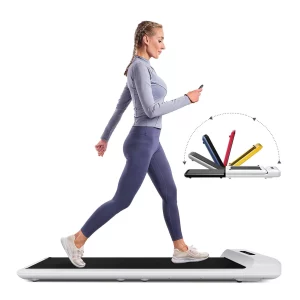 The WalkingPad C2 Mini Foldable Treadmill is the perfect solution for your home exercise needs.
Its unique 180-degree foldable design reduces the amount of space required and makes it easily movable.
The running belt is crafted with an EVA layer which protects your ankles while running and adds comfortable cushioning to provide smoother movement.
With its digital monitor, you can track your time, speed, steps, and calories burned using the KS Fit app. 
Product Features:
Unique foldable design that reduces space required

Digital monitor displays time, speed, steps, and calories burned
Comfortable belt crafted with an EVA layer for ankle protection
Speed control by feet sensing ('A' mode)
Connection mode includes WIFI+Bluetooth to connect with other users
User capacity up to 220 lbs/100KG
Folding Size: 32.48 * 20.39 * 5.35in / 825 * 518 * 136mm
The Goplus 2-in-1 Folding Treadmill is designed for people who prefer walking, jogging, and running in the comfort of their homes.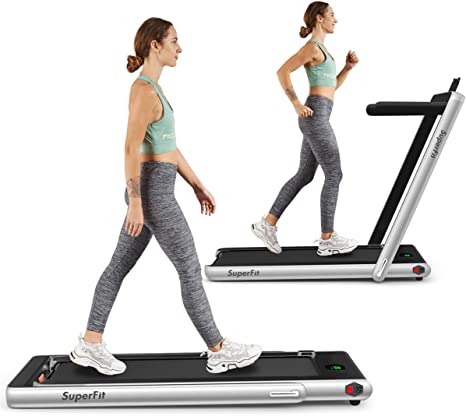 This compact, installation-free treadmill features a powerful 2.25HP motor, a 5-layer non-slip texture running belt, and an LED display -allowing you to monitor time, speed, and calories burned.
What's more, it also comes with Blue Tooth Speaker which allows you to play music while exercising, remote control, and APP control making it easy to adjust speed while working out. Plus its foldable design with wheels makes it easy to move around the house or store away when not in use. 
 Product Features:
Powerful 2.25HP Motor provides speeds up to 8.6 MPH for users of all fitness levels

5-layer non-slip texture running belt features a spacious running area(40″ x16″)
Foldable design with wheels makes it easy to move around the house or store away when not in use
Installation Free – Easy assembly by just expanding the 4 screws
Strong shock absorption system ensures that each step will feel comfortable
A Blue tooth speaker for playing music during exercise
Remote control & APP Control make it easier to increase or decrease your workout intensity at any time
Large LED Display gives clear and real-time feedback on Speed (km/h), distance (miles), Time (min) and Calories Burned (Calories)
The Walkingpad R1 Pro 2in1 Foldable Treadmill is the perfect way to get fit, stay healthy, and save on space & time.
It features a lightweight one-piece aluminum alloy frame that provides strength and durability, plus with its foldable design, you can easily store it anywhere without taking up too much space in your home or office.
The R1 Pro also comes with three easy control options. A foot-sensing control system for automatic speed adjustment, a mobile app for sharing data & stats, and lastly a remote-controlled feature for an uninterrupted experience. Perfect for those who don't have the extra time or space to go to the gym!
Product Features:
Durable one-piece aluminum alloy frame for strength & stability 

Manual folding feature allows you to store it away in any tight spaces

Smart foot sensing control system & handheld remote control options provide an uninterrupted experience
Mobile app support allows sharing running data/records/progress over the internet
Easy integration into any office environment with room to move under a desk
Compact & easy to store anywhere; while not compromising the quality of use
Ergonomic design ensures comfortable walking/running
Speed setting range from 0.6 – 6.2MPH
In addition to the aforementioned walking pad options, several other models may be suitable for small apartments:
This treadmill features a compact design that is easy to fold and store.
This model comes with an LCD, adjustable speed and incline, and a built-in speaker system for music or audio coaching.
This treadmill features a sleek, foldable design that is perfect for small spaces.
It comes with a digital display, adjustable speed, and a compact remote control for easy operation.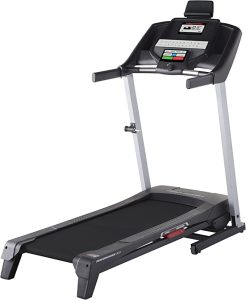 This treadmill has a foldable design that makes it easy to store in small spaces.
ProForm Performance 300i Treadmill comes with a 16 x 50-inch tread belt, adjustable speed and incline, and a heart rate monitor.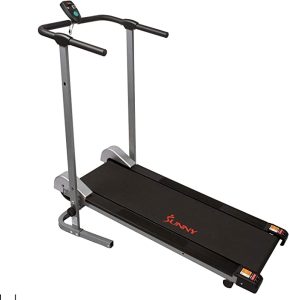 This manual treadmill has a compact, lightweight design that is perfect for small apartments.
It doesn't require electricity and comes with a simple, easy-to-use display that tracks your speed, distance, and calories burned.
Advantages Of Using A Walking Pad 
There are several advantages to using a walking pad for exercise:
Convenient
Walking pads are convenient and can be used at home, which eliminates the need to travel to a gym or park. They can be used at any time of the day, regardless of the weather conditions outside.
Space-Saving
Walking pads are usually compact and foldable, making them ideal for people who have limited space for exercise equipment.
Low-Impact
Walking pads provide a low-impact workout that is easier on the joints than running on hard surfaces such as concrete or asphalt.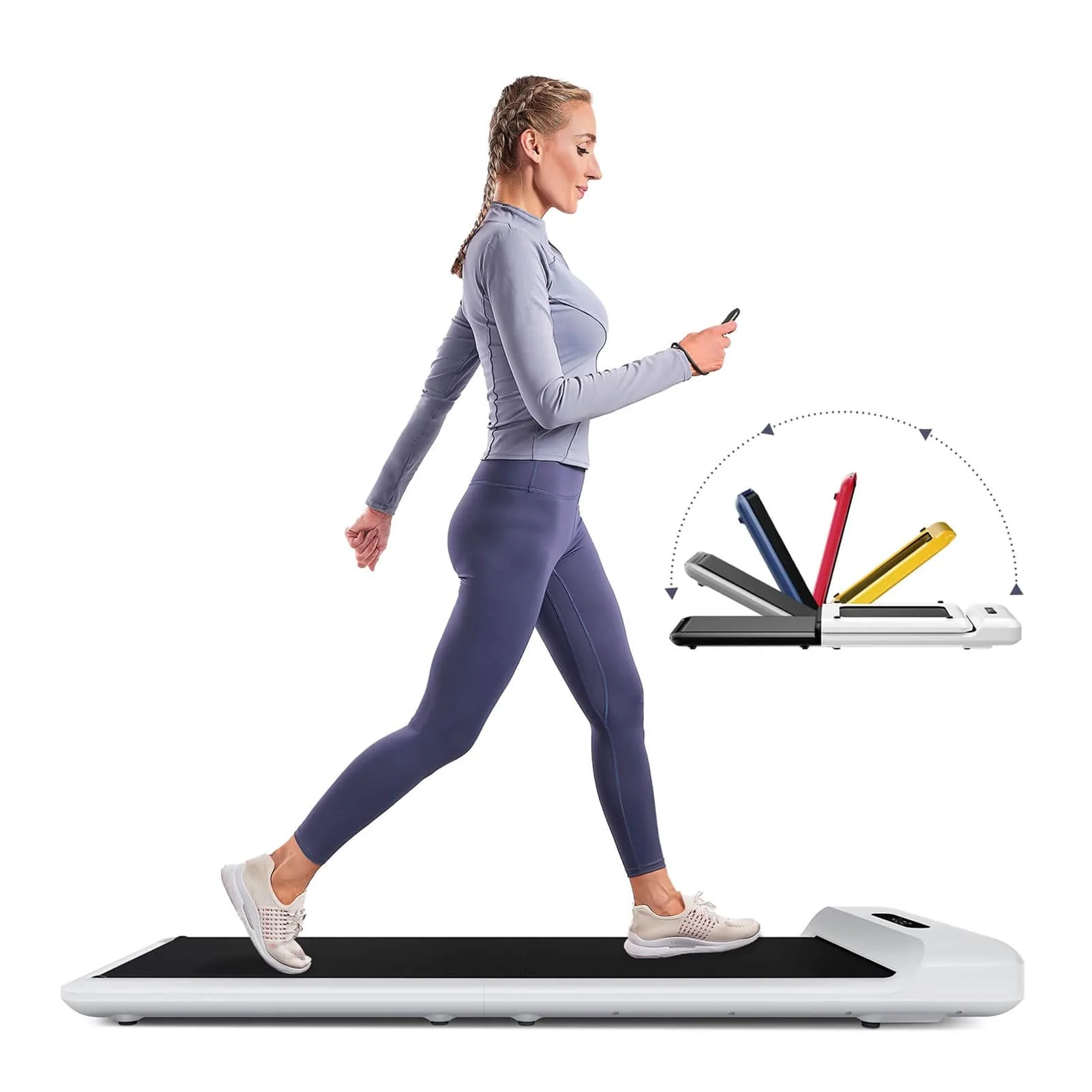 Customizable
Many walking pads come with adjustable speeds and inclines, allowing you to customize your workout to meet your fitness level and goals.
Versatile
Walking pads can be used for a variety of workouts, such as walking, jogging, and even running. You can also use them for other exercises, such as lunges and squats.
Health Benefits
Regular use of a walking pad can provide numerous health benefits, including improved cardiovascular health, weight loss, and reduced stress levels.
Overall, walking pads offer a convenient and effective way to stay active and fit, and can be a great addition to your home exercise routine.
Wrapping Up
With these selections in mind, you should now be able to find the right model for your needs!
So compare some online reviews or head out to a fitness equipment store to test them out in person and choose the walking pad that best fits your space, budget, and fitness goals.
Remember to also consider important factors such as durability, ease of use, and warranty before making your final decision. With the right walking pad, you can enjoy a convenient and effective way to stay active and healthy from the comfort of your own home!