Tanning has been an important part of the bodybuilding world for decades, with many bodybuilders looking to achieve the perfect tan when they hit the stage. But why do they tan? It's not just about looking great — several physical and psychological benefits come with tanning. From improved muscle definition to increased confidence, sunless tanning can help bodybuilders look their best when it matters most. 
In this blog post, we'll take a closer look at why bodybuilders tan, how it can help them prepare for shows and competitions, and what options are best for those who want to get a great-looking competitive tan. 
We'll also discuss some important safety precautions that should be taken when using any type of tanning product. So if you're interested in learning more about why bodybuilders use sunless tans and how you can do so safely, read on!
Physical Benefits Of Sunless Tanning 
 Let's break down all the benefits of tanning for bodybuilders. 
Accentuates Muscle Separation And Definition
The most notable benefit that tanning has for bodybuilders is how it accentuates muscle separation and definition. Tanning brings out a definition in the musculature, which helps to make sure that each muscle group stands out on stage when competing.
This is important because it allows judges to properly identify each muscle group, which could help give you an edge over your competitors who may not be as tanned or defined. 
Hides Blemishes 
Another benefit of tanning for bodybuilders is that it hides blemishes such as stretch marks or cellulite that can be hard to cover up without tanning.
By using a quality bronzing lotion, you can minimize any unsightly blemishes while still having a natural-looking tan that won't rub off during competition day. A good bronzer will also last longer than other types of tanners, so make sure to do your research before investing in one!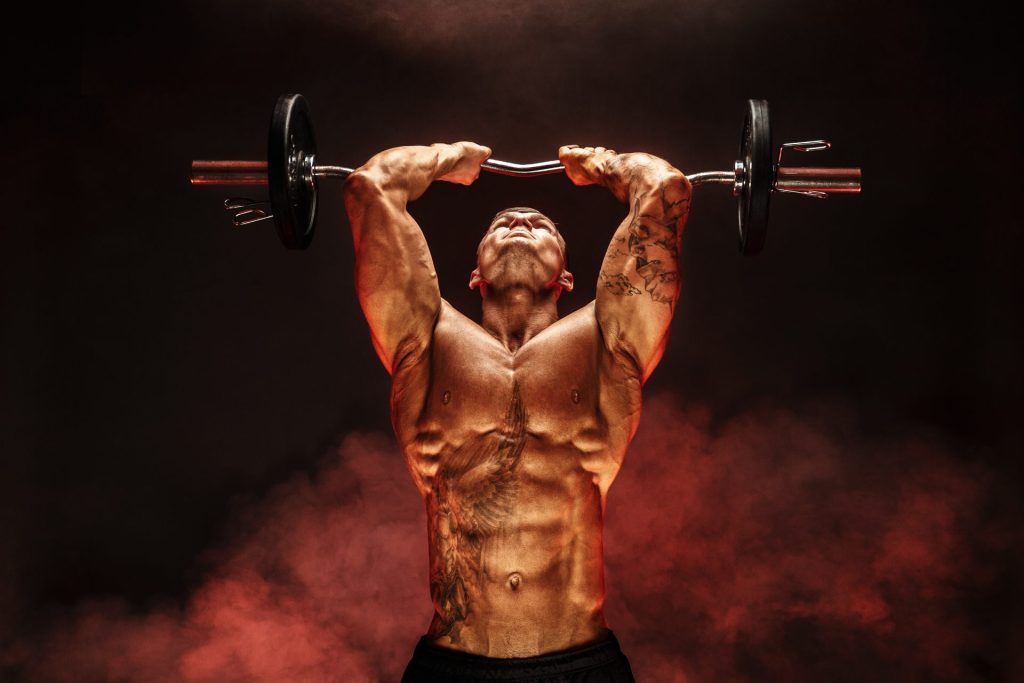 Reduced Signs Of Aging
Sunless tanners contain antioxidants like Vitamin E which help reduce free radicals present in the environment and as a result protect against premature aging such as wrinkles and age spots.
The antioxidants also help repair any already existing damage from UV exposure making sunless tanning an excellent choice for those who want to maintain their youthful complexion while still getting their desired level of bronzed glamour.  
Holds Up Against Bright Lights 
Finally, tanning holds up against bright lights that are common on stage during competitions. These intense lights can wash out skin tones, making them appear duller than they actually are.
With a good quality bronzer, however, you can ensure that your skin tone will remain vibrant even under the brightest of lights – giving you an extra edge over your competition! 
Psychological Benefits Of Sunless Tanning 
In addition to physical benefits, there are also psychological advantages to using sunless tanners before competition season begins. 
Applying self-tanner is a creative outlet for those who compete – it allows them to express themselves both artistically and physically on stage without having to worry about exposure to harmful UV rays from natural sunlight or artificial indoor lamps. 
Additionally, achieving a great-looking competitive tan gives athletes an extra boost of confidence as they step onto the stage knowing that they look their best from head to toe – even if it's only temporary!  
Things To Consider Before You Apply A Tan 
Applying a tan is a ritualistic process that should be taken seriously and done with caution. If you're new to bodybuilding or considering entering your first competition, here are some things to consider when applying a tan. 
Preparation Is Key 
Before you even think of applying a tanning product, it's important to prepare your skin. This means exfoliating with an abrasive scrub or loofah to remove any dead skin cells that are lingering on the surface of your skin. This will help promote even absorption of the product and give you an even, natural-looking tan.
After exfoliating, apply an oil-free moisturizer to keep your skin hydrated and supple throughout the process. 
Choose Your Product Wisely 
When it comes to selecting the right product for your bodybuilding tan, there are two main types: self-tanning products and spray tans. Self-tanning products come in lotions and creams that you apply directly onto your skin yourself at home.
Spray tans involve having someone else apply the product for you using a misting gun or airbrush machine (which is often done at salons or spas). It's important to research both options thoroughly before making a decision as each has its pros and cons depending on what look you're going for and how much time you have available for prep work before the competition starts. 
Application Tips & Tricks 
Once you've chosen your product, it's time to apply! In terms of technique, make sure that you're applying in circular motions rather than in straight lines so that there aren't any unsightly streaks left behind after application.
When it comes to areas like elbows, knees, ankles, and wrists where the skin tends to be tougher than other parts of the body, focus on blending extra well so that there aren't any harsh lines between those areas and other parts of your body where the tan was applied more heavily (like arms or legs).
Finally, don't forget about smaller details like ears and toes – these areas should also be blended so that they match the rest of your tan!  
Safety Considerations 
When getting ready for competition season, athletes need to keep safety in mind when choosing products and methods. 
MANY TRADITIONAL "SUN BEDS" HAVE BEEN FOUND TO EMIT DANGEROUS AMOUNTS OF UV RADIATION WHICH INCREASES THE RISK OF SKIN CANCER AND PREMATURE AGING OVER TIME – SOMETHING NO ONE WANTS!
That's why many bodybuilding professionals now opt for safer alternatives like spray tans or self-tanners which are designed specifically for athletes competing in all types of disciplines like bikini contests or figure competitions.  Many quality brands offer long-lasting formulas with natural ingredients like Aloe Vera or Vitamin E so that skin stays healthy while looking its best!   
Tanning Products: What You Need To Know 
Spray Tans 
When done correctly, spray tans can provide a beautiful natural-looking tan. But if not applied properly, the results can be patchy or unnatural looking. It's important to follow all instructions when applying a spray tan and make sure that you are using a product specifically designed for your skin type.
Additionally, it's best to avoid inhaling the mist from a spray tan as it contains chemicals that can be harmful if inhaled in large amounts. 
Self-Tanners
Self-tanners come in lotion or cream form and can be applied directly onto the skin with either hands or an applicator mitt. Like spray tans, self-tanners should be applied following all instructions on the package and according to your skin type.
To ensure even coverage and avoid streaks, use light pressure when applying and blend outwards towards the edges of your body. Furthermore, take extra care around areas such as elbows and knees —these areas may require additional product since they tend to absorb more than other parts of your body.
Finally, make sure that you wash your hands thoroughly after application so that you don't end up with orange palms!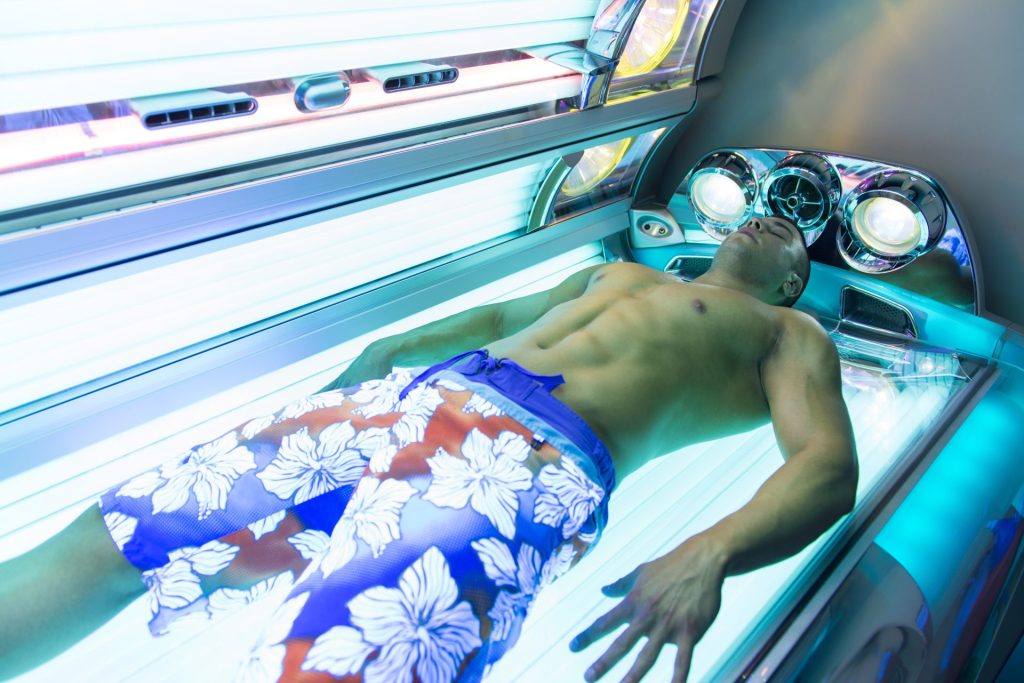 Tanning Beds 
Tanning beds have been linked to an increased risk of developing skin cancer due to their use of ultraviolet rays. If you choose to use a tanning bed for your desired bronze look, you must always wear protective eyewear while inside the bed as well as limit yourself to only one session per week (or less).
Lastly, make sure that you keep track of how many minutes you spend in each session so that you stay within safe limits for UV exposure for your age group.
Tan Removal Process For Bodybuilders 
The first step in tan removal is taking a warm shower or bath.
THE COMBINATION OF HEAT AND WATER HELPS BREAK DOWN THE CHEMICALS IN THE TANNING SOLUTION, ALLOWING THEM TO WASH AWAY MORE EASILY.
After your shower or bath, use an exfoliating scrub or loofah to gently buff away any residual tanned skin cells. This will help speed up the process of removing your tan and ensure that it doesn't leave any stubborn areas behind. 
The next step is to use a specialized bodybuilding tan remover product. These products are specially formulated with ingredients like alpha hydroxy acids (AHAs) and beta hydroxy acids (BHAs) that help loosen dead skin cells and break down the remaining chemicals in the tanning solution.
Apply the product evenly over your entire body using circular motions, then rinse off with lukewarm water. Repeat this process until all of the tanned skin has been removed from your body. 
Finally, apply a moisturizing cream or lotion to hydrate, nourish, and protect your newly exposed skin.
LOOK FOR PRODUCTS THAT CONTAIN INGREDIENTS LIKE SHEA BUTTER OR GLYCERIN WHICH WILL HELP LOCK IN MOISTURE WHILE PROVIDING ANTIOXIDANT PROTECTION AGAINST FREE RADICAL DAMAGE CAUSED BY UV EXPOSURE DURING TANNING SESSIONS. 
Conclusion
The conclusion of why bodybuilders tan is clear: it can give them the ultimate competitive edge. Tanning can help make their muscles look bigger and more defined while also making them appear healthier and stronger on stage. It's a way to take the hard work they put into their training and supplementation, and maximize the results.
While there are some risks associated with tanning – such as the increased risk of skin cancer or premature aging of the skin – these risks are often minimal when protective measures are taken.
ALWAYS BE SURE TO WEAR SUNSCREEN AND USE OTHER PRODUCTS LIKE BRONZER OR SELF-TANNER, RATHER THAN TANNING BEDS, FOR THE SAFEST APPROACH.
When done correctly, tanned bodybuilders stand out in competitions – and that's why, for many competitors, it's an important part of prepping for shows!