Are you a pickleball player in search of the perfect shoe to enhance your game? Look no further! Choosing the right equipment is essential for any sport, and pickleball is no exception. While finding the perfect paddle is crucial, selecting the proper shoes can be just as important. The right pair of pickleball shoes can provide you with the stability, support, and comfort you need to take your game to the next level, while the wrong shoes can hold you back.
Best Pickleball Shoes
As pickleball becomes more popular, the variety of shoes available for players has increased significantly. The best pickleball shoes should provide high comfort and stability for a better playing experience. In this article, we will explore the key features to consider when selecting pickleball shoes and present the top options for players of all levels. Whether you're a beginner or a seasoned pro, these shoes will help you take your game to the next level.
Factors To Consider When Choosing Pickleball Shoes
Importance Of Comfort During Intense Gameplay
Comfort is paramount during pickleball matches, which can be physically demanding and require hours of play. Look for shoes with cushioning and padding in the midsole and heel areas to absorb impact and provide a comfortable fit. Breathable materials and moisture-wicking properties are also important to keep your feet dry and cool throughout the game.
Need For Stability To Prevent Injuries And Improve Performance
Stability is crucial in pickleball to avoid injuries, especially when executing quick lateral movements and sudden changes of direction. Look for shoes with features like lateral support, reinforced toe caps, and secure lacing systems to provide stability and prevent foot and ankle injuries. A wider base and non-marking outsoles with good grip and traction are also essential for maintaining balance and agility on the court.
Other Factors To Consider: Durability, Traction, Breathability, And Style
Durability is an important consideration since pickleball can be hard on shoes. Look for shoes made from durable materials, with reinforced stitching and overlays, to withstand the rigors of the sport.
Good traction is vital to prevent slipping on various court surfaces, so opt for shoes with outsoles designed specifically for indoor or outdoor pickleball courts.
Breathability is crucial to keep your feet comfortable and dry. Shoes with breathable mesh uppers or ventilation features will help prevent excessive sweating and discomfort during long matches.
Lastly, while style may not affect performance, having a shoe that suits your personal taste and matches your outfit can boost confidence and add a touch of flair to your game.
Other Considerations When Choosing Pickleball Shoes
Price range and value for money
Consider your budget and the value you'll get from the shoes. While the top picks may have varying price ranges, it's important to find a balance between your budget and the quality and features offered by the shoes.
Personal preferences and playing style
Take into account your personal preferences, such as shoe design, color options, and playing style. Some players prefer a more lightweight shoe for agility, while others prioritize stability. Choose a shoe that aligns with your specific playing style and personal taste.
Availability and sizing options
Check the availability and sizing options for the shoes you're interested in. Ensure you can find the right fit for your feet, as proper fit is crucial for comfort and stability on the court.
Additional features or technologies to consider
Consider any additional features or technologies that may be important to you. This could include things like extra arch support, ankle support, or customizable insoles. Evaluate whether these features align with your specific needs.
Best Pickleball Shoes
Finding the right pair of shoes can improve your performance on the court, prevent injuries, and make playing the game a more comfortable experience. Here are the best pickleball shoes for men and women.
Best Pickleball Shoes for Men
The Wilson Rush Pro 2.5 is a lightweight shoe that offers great durability and traction on the court. It also features a responsive cushioning system to keep you comfortable and quick on your feet.
Product Features:
Rubber sole for excellent traction on the court.
Sensifeel feature provides comfort and superior support for your foot.
Endofit construction enhances comfort, and stability, and provides an intuitive fit.
DF1 technology provides optimal low-to-the-ground court feel for agile and explosive acceleration.
3D-FS technology delivers unparalleled support, increased response time, and explosive acceleration with controlled deceleration.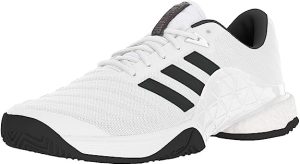 The Adidas Barricade 2018 is a high-performance shoe that is designed for stability and support. Its Adiwear 6 outsole provides excellent traction on multiple surfaces, making it perfect for pickleball.
Product Features:
Man-made materials, imported
Rubber sole for excellent grip and traction
Seamless Forgedmesh upper
Adiprene+ in the forefoot
Abrasion-resistant Adituff
Geofit construction
Ghillie lacing
Barricade chassis
Adiprene under the heel
Adiwear 6 outsole
The New Balance MC 996v4 offers a perfect blend of stability, durability, and comfort. With its advanced PROBANK technology and responsive REVlite cushioning, this shoe provides the support needed for lateral movements, ensuring players can quickly change direction without compromising on stability.
Product Features:
Made in the USA or Imported
Rubber sole for superior traction on hard courts
FuelCell foam technology delivers a propulsive feel for maximum performance
Hypoknit upper provides strategic areas of stretch and support for comfort and stability
NDure upper technology ensures superior durability
Full-length Ndurance outsole provides superior traction and durability for long-lasting wear
Synthetic upper material ensures a lightweight feel for easy movement on the court.
Best Pickleball Shoes For Women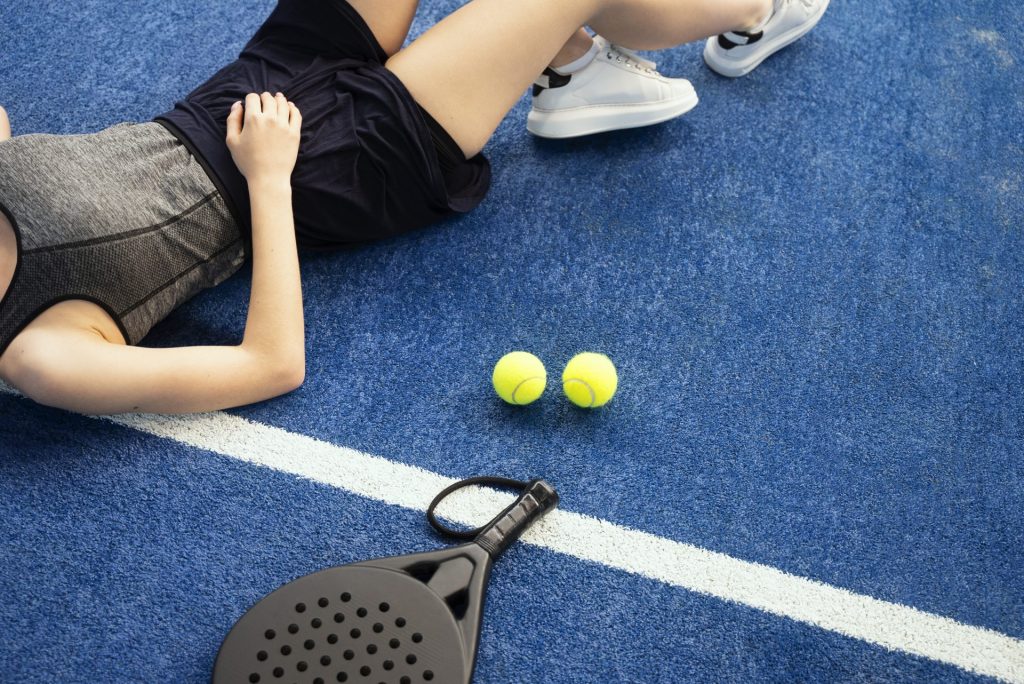 The ASICS Gel-Dedicate 5 is a lightweight shoe that provides exceptional comfort and stability. Its gel technology in the forefoot and rearfoot absorbs shock and reduces the risk of injury during play.
Product Features:
100% synthetic construction for durability.
Imported.
Rubber sole for enhanced traction.
Forefoot GEL Cushioning System for added comfort.
Trusstic System Technology reduces the weight of the sole unit while retaining structural integrity.
Solid Rubber Outsole enhances durability and traction.
Ideal for tennis and pickleball players looking for added comfort and support.
Sleek and stylish design.
Lightweight construction.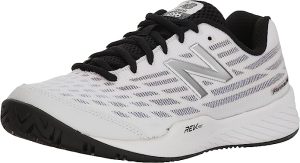 The New Balance 896v2 is a highly breathable and lightweight shoe that features a synthetic/mesh upper, which allows your feet to breathe during play. Its REVlite midsole provides ultra-responsive cushioning, and the Ndurance outsole delivers great durability and traction.
Product Features:
100% synthetic material provides durability and support.
Rubber sole offers excellent traction and stability on any court surface.
REVlite midsole provides lightweight responsiveness.
Full-length endurance outsole provides long-lasting durability.
Herringbone outsole enhances traction and grip on the court.
Removable insert provides additional cushioning and comfort.
Synthetic/mesh upper provides breathability and flexibility.
Lightweight and comfortable, yet sturdy and durable.
Perfect for women who want a high-performance
Insight Into The Unique Needs Of Players 
Different playing styles and court surfaces may require specific shoe features:
Playing Style
Aggressive Players: If you have an aggressive playstyle with quick movements and frequent lunges, prioritize shoes with reinforced toe caps and additional support in the forefoot area to withstand the extra stress.
Defensive Players: If your playstyle involves more defensive moves and sliding, shoes with a low-profile sole and a smooth outsole can facilitate easy sliding while maintaining stability.
Court Surface
Indoor Courts: Shoes with a non-marking rubber sole designed specifically for indoor courts can provide optimal traction and prevent scuffing or damaging the court surface.
Outdoor Courts: Outdoor pickleball courts may have different surfaces, such as concrete or asphalt. Look for shoes with durable outsoles that can handle outdoor surfaces and provide good grip and stability.
Tips For Proper Care And Maintenance Of Pickleball Shoes
To ensure your pickleball shoes last longer and perform at their best, follow these care and maintenance tips:
Cleaning
Regularly clean your shoes after each play session. Use a soft brush or cloth to remove dirt and debris from the outsole and upper. If necessary, use a mild soap or detergent with water for tougher stains. Avoid machine washing or submerging the shoes in water.
Drying
After cleaning, let your shoe air dry naturally. Avoid exposing them to direct sunlight or heat sources, as excessive heat can damage the materials and cause deformation.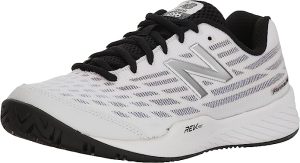 Rotation
If possible, have multiple pairs of pickleball shoes and rotate them between play sessions. This allows the shoes to fully dry out and reduces the wear and tear on a single pair.
Storage
Store your pickleball shoes in a cool, dry place to prevent moisture buildup and the growth of bacteria or mold. Avoid storing them in a tightly sealed bag or container, as it can lead to unpleasant odors.
Wrapping Up
Finding the right pair of shoes is a crucial aspect of any game, especially pickleball. With the right pair of pickleball shoes, players can achieve high levels of comfort, stability, and agility in their game. The best pickleball shoes on the market offer a combination of cushioning, support, and grip, enabling players to move quickly around the court and make precise shots with ease.
By considering all of the factors mentioned in this blog post, players can make an informed decision when choosing the best pickleball shoes for their needs. Ultimately, investing in a quality pair of pickleball shoes will help players to improve their game and enjoy their time on the court to the fullest.
So, what are you waiting for? Get your hands on the best pickleball shoes today and take your game to the next level!