Are you tired of carrying a boring, generic golf bag on the green? Why not upgrade to a leather golf bag with timeless style and sophistication? The vintage leather golf bag trend is making a comeback and is perfect for golfers who appreciate the classics.
Leather has always been a popular material for golf bags as it is durable, stylish, and exudes a hint of luxury. However, vintage leather golf bags, in particular, have a unique charm that sets them apart from modern-day bags. These bags harken back to when golf was a gentleman's sport, and leather bags symbolized prestige and status.
If you want to elevate your golfing experience, investing in a vintage leather golf bag is a must. Not only will it add a touch of nostalgia to your game, but it will also serve as a functional and fashionable accessory on the green. This article will explore some of the best vintage leather golf bags available in the market and why they are worth the investment.
TOP 5 Golf Bags
Top 5 Picks For Best Vintage Leather Golf Bags
Here are some of the best vintage leather golf bags available today.
Heritage Brown Leather Golf Bag is designed to provide a comfortable and stylish way to carry your golf clubs. Made from genuine cowhide leather, this golf bag boasts a sleek and sophisticated design that is perfect for golf enthusiasts who value class and style.
Product Features:
Genuine cowhide leather construction for durability and longevity.

Lightweight design (5 KG) for easy portability and maneuverability around the course.

Embossed MVP logo for a stylish and sophisticated look.

Large interior compartment to securely store all your golf clubs and accessories.

Spacious pockets for additional storage.

Designed to fit golf carts for easy transport.

Comfortable strap for easy carrying.

Perfect for casual and professional use alike.
This golf bag by Titleist has a classic look with a modern twist. Made with high-quality leather and nylon, it is lightweight and water-resistant. The bag holds 14 clubs and has plenty of storage for other accessories. The antique brass zippers and leather handles give it a vintage feel.
Product Features:
Waterproof construction keeps your equipment dry in wet conditions

Double strap design distributes weight evenly for comfortable carrying

Seven pockets and magnetic accessories provide ample storage options

Aluminum legs provide excellent stability on the course

Easy-to-use fixed strap system allows for easy attachment to carts and trolleys

External drink pocket lets you stay hydrated on the go

Stylish design looks great on the course
Sun Mountain is known for its high-quality golf bags, and its Leather Sunday Golf Bag is no exception. This bag is made from top-grain leather and has a timeless look that will never go out of style. It is perfect for a quick round of golf or for those who prefer to carry their bag. The bag has a zippered pocket for your valuables and a leather handle for easy carrying.
Product Features:
Premium leather material wrapped around the bag provides a luxurious look and feel.

A 9" 4-way top with full-length dividers ensures easy and comfortable club organization.

Adjustable single shoulder strap ensures you are comfortable carrying the bag during the whole round.

Lightweight design, weighing just 3.5 lbs, perfect for those who prefer to walk the course.

Multiple pockets, including a valuables pocket, provide ample storage space for all golf essentials.

Stylish and sleek design that will turn heads on the course.

Fits up to 14 clubs, ensuring you have all the options you need while playing.

Perfectly suitable for Sunday rounds, weekend golf trips, or as a backup bag for your golf cart.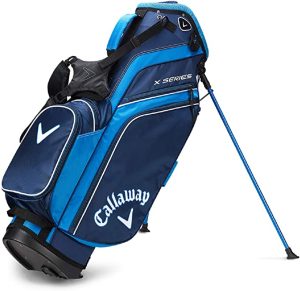 The Callaway X-Series Stand Bag is perfect for golfers who want functionality and style. It comes equipped with six pockets perfect for holding all your golfing essentials, including your keys, cell phone, balls, tees, and more.
The lightweight, high-mount automatic stand is designed to make it easy to carry, even on long courses with many hills. At the same time, the ergonomic strap provides excellent balance and makes it comfortable to wear for extended periods.
Product Features:
Six pockets provide ample storage space for all of your golfing needs.

Lightweight design makes it easy to carry, even on hilly courses.

Ergonomic strap ensures balanced weight distribution and comfort.

High-mount automatic stand keeps your bag stable and upright.

Stylish design adds flair to your golfing game.

Compatible with most golf carts for easy transportation.

Durable construction ensures longevity and functionality.

Comes in a variety of colors to match your style and personality.
Features To Look For In Vintage Leather Golf Bags
If you're in the market for a vintage leather golf bag, here are some features to look for:
Quality of leather
Look for a bag made from high-quality leather that is durable and able to withstand the wear and tear of regular use. Top-grain leather or full-grain leather is generally preferred, as it is more resilient than lower-grade leather.
Style and design
Vintage leather golf bags come in various styles and designs, so choose one that suits your preferences and needs. Some bags have a traditional, classic look, while others have a more modern or sporty design.
The number of pockets
Consider how many pockets and compartments the bag has, as this will affect how much storage space you have for your golf clubs, balls, tees, and other accessories. Some bags have multiple pockets and compartments, while others are more streamlined.
Strap and handle
Look for a bag with a comfortable, sturdy strap and handle that is easy to carry, even when fully loaded.
Condition
When buying a vintage leather golf bag, inspect it closely for any wear or damage, such as scratches, tears, or discoloration. While some wear is expected with vintage items, you want to ensure that the bag is still in good condition overall.
By considering these features, you can choose a vintage leather golf bag that is both stylish and functional and that will provide you with years of use on the golf course.
How to care for and maintain vintage leather golf bags
Vintage leather golf bags require proper care and maintenance to keep them looking their best and to extend their lifespan. Here are some tips on how to care for and maintain your vintage leather golf bag:
Clean the bag regularly
Use a soft cloth or a brush to remove dirt and dust from the bag's surface. Avoid using harsh cleaning products that can damage the leather.
Condition the leather
Use a leather conditioner to moisturize and protect the leather from cracking and drying out. Apply the conditioner to a small, inconspicuous area first to test for discoloration or damage.
Protect the bag from moisture
Avoid exposing the bag to rain or damp conditions, as moisture can damage the leather. If you get caught in the rain, dry the bag with a soft cloth as soon as possible.
Store the bag properly
When not in use, store the bag in a cool, dry place away from direct sunlight. Stuff the bag with tissue paper or a soft cloth to help it retain its shape.
Avoid overloading the bag
Don't overload the bag with too many clubs or other items, as this can strain the leather and cause it to stretch or warp.
By following these tips, you can help ensure that your vintage leather golf bag remains in good condition for years.
Wrapping Up
A vintage leather golf bag is not only functional but also stylish. It is the perfect accessory for any golf enthusiast who wants to add a touch of timeless elegance to their game. These bags are crafted from the finest leather, guaranteeing durability and longevity, and their classic design always stays in style.
Whether you prefer a traditional or a modern twist, a vintage leather golf bag is out there for you. And with so many available options, finding the one that suits your style and needs has always been challenging. Invest in a vintage leather golf bag today and elevate your golf game while maintaining your classic style.