Welcome to the world of professional swimming – and its best practitioner, Michael Phelps. As an Olympic gold medalist and record-breaking athlete, Michael Phelps has rightfully earned his title as one of the greatest athletes in history. His success is certainly a testament to his rigorous and intense training regimen, which includes up to six hours a day of swimming practice, weightlifting and cross-training. In this blog post, we will delve deeper into the specifics of what makes Michael Phelps' workout plan so successful and how it can be applied to your own fitness goals.
"THE ONLY REASON I EVER GOT IN THE WATER WAS MY MOM WANTED ME TO JUST LEARN HOW TO SWIM. MY SISTERS AND I FELL IN LOVE WITH THE SPORT, AND WE DECIDED TO SWIM."
Get Fit With Michael Phelps' Swim Workout Program 
Section 1 
This section of Phelps' workout plan includes a combination of swimming, kicking, pulling, and drills. Here's what each activity entails:  
Swimming: This involves completing 800 meters of freestyle or backstroke swimming at a moderate pace. 
Kicking: This requires 600 meters of kick drills using fins or without fins (depending on your preference). The aim here is to focus on technique and build leg strength. 
Pulling: For this part of the workout, you'll swim 400 meters while focusing on technique and building upper body strength.  
Drill: To help improve your swim stroke efficiency, Phelps recommends 200 meters of drill work such as sculling or catch-up drills. 
Section 2  
This section focuses on increasing speed and power through short bursts of energy known as "fast twitch" strokes. It includes six sets of 50-meter fast twitch strokes interspersed with warm-up exercises like sidekicks and butterfly drills, as well as pull buoy work for extra resistance training. 
Section 3  
The third section emphasizes endurance training with two individual medley sessions aimed at improving all four competitive strokes (freestyle, breaststroke, backstroke, and butterfly).
You'll complete 20×100 meter sets in 1:15 minutes each followed by 25 meters of butterfly swimming for extra resistance training.  
Section 4   
This final section helps you build up your endurance even further with 500 total strokes consisting of 50 kicks and 50 drills—alternating between freestyle and butterfly styles—followed by 50 meters of freestyle swimming for speed work before ending off with 25 meters of butterfly swimming for added resistance training.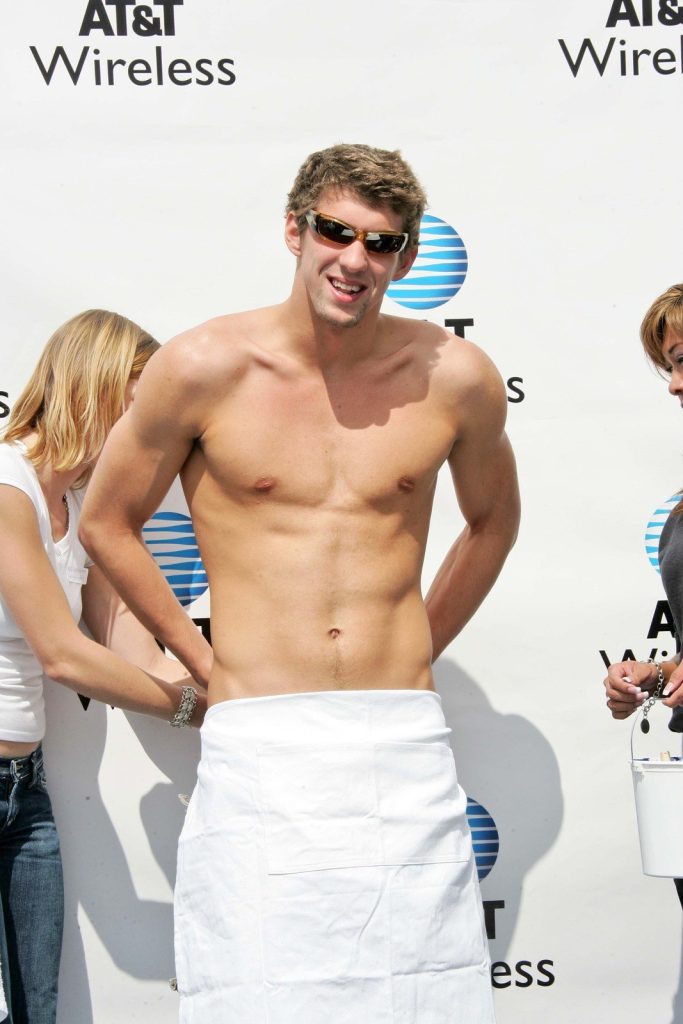 The Main Workout
Section One
2000 timed kick stroke: with the kickboard

4×100 IM drill

Pulling Set

10×200 in 3 minutes

Speed Sets x 4

24×25 fly, three times: 1 Warm-up, 1 no breath, and 1 sprint

Out-of-the-pool core workouts, typically 500 sit-ups or bicycle crunches

Static stretches

Free swim cool down
Section Two (after a 20-minute break)
800 mixer on 10:30

4×150 kick on 2:30 (50 strokes, 50 free, 50 strokes)

400 pull with a buoy on 5:00 (breathe 3,5,7,9 per 100)

200 strokes on 3:00

10×50 in 45 min (2-25 kick/25 drills 2-25 free/25 stroke)

4×50 in 1:30

1×50 in 1:20

1×50 in 1:10

1×50 in 1:00

Long swim 100-200-300 pull (lung busters)

400 choice kick

300-200-100 IM drill

Vertical kicking, underwater kicking, training paddles, snorkel, kick

Board, Sculling, Sled Push, Sled Reverse Fly
The Michael Phelps Gym Workout You Can Follow
Standing dumbbell press: 3 sets of 10-15 reps

Dumbbell front raise: 3 sets of 10-15 reps

Lat Pull-down

: 3 sets of 12-15

Dumbbell Bench Press

: 3 sets of 12-15

Dumbbell Fly: 3 sets of 12-15 reps

Dumbbell lateral shoulder raise: 3 sets of 12-15 reps
Weighted Pull-ups: 3 sets of 7-10 reps 

Weighted Push-ups: 3 sets of 15-20 reps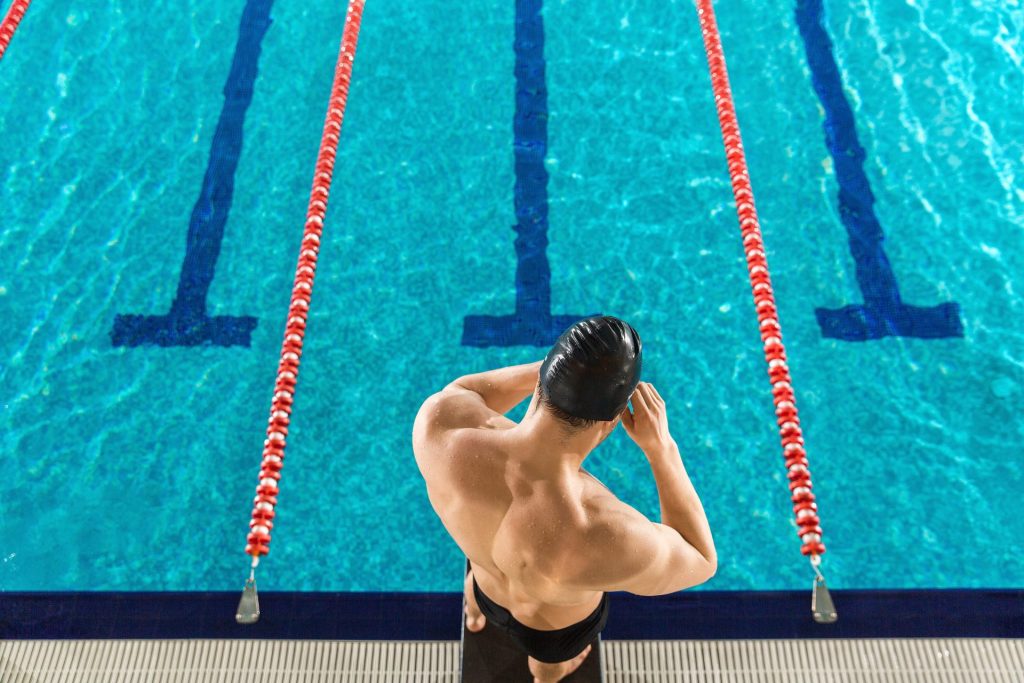 What Was Michael Phelps's Diet? A Look Inside A Day's Worth Of Meals 
The 8-time gold medalist famously consumed an astonishing 12,000 calories per day in order to fuel his training and maintain his weight.
But what did these 12,000 calories actually look like?
Let's break down a day's worth of meals to get a better understanding of the type of food that Michael Phelps ate as part of his diet. 
Breakfast 
Michael Phelps famously started each day with a massive breakfast, consuming up to 3,500 calories before lunchtime. His typical breakfast included: 
3 fried egg sandwiches with cheese, tomatoes, lettuce, fried onions, and mayo

3 choc chip pancakes
4 egg omelets
3 sugar-coated slices of French toast
Bowl of grits
2 cups of coffee
A typical breakfast such as this is packed with protein and carbohydrates needed to fuel intense exercise sessions later in the day.
It also contains enough fat and sugar to make sure that he had enough energy to last until lunchtime.  
Lunch 
For lunch, Michael Phelps would consume approximately 4500 calories which would include: 
2 large ham and cheese sandwiches on white bread smothered with mayo  

Up & Go energy drink   
Dinner
Dinner For dinner, Michael Phelps typically ate around 2500 calories which would include: 
Half a kilogram of pasta with carbonara sauce 

Up & Go energy drink 
"I WAS TOLD THAT I WAS SUPPOSED TO EAT BETWEEN EIGHT AND 10,000 CALORIES A DAY. I JUST SORT OF TRY TO CRAM WHATEVER I CAN INTO MY BODY. IT'S PRETTY MUCH WHATEVER I FEEL LIKE EATING, I'M GOING TO EAT."
Michael Phelps' Supplement Regime: What Fueled His Success? 
Creatine Monohydrate – This is an amino acid that helps provide energy to muscle cells. It is often taken as a pre-workout supplement to give athletes an extra boost of energy during their workouts.
For Phelps, this gave him the extra energy needed during his grueling training sessions. 
Protein Shakes
Protein shakes are a simple way to get your protein intake up quickly and easily. They are also convenient because they can be carried around with you and consumed anytime you need some extra protein in your diet.
For Phelps, this was essential in helping him build lean muscle mass and recover quickly after intense training sessions. 
Vitamin C
Vitamin C is important for many aspects of health, including immunity, skin health, and even wound healing.
It can also help reduce inflammation which is important for recovery from exercise-induced inflammation as well as any other type of injury or illness. For Phelps, vitamin C was essential in helping him stay healthy and strong enough for rigorous training sessions day after day. 
Wrapping Up
Michael Phelps' workout is an inspiring one: no matter what your goals, you can achieve them with hard work and dedication. With over 28 Olympic medals and dozens of world records, Michael Phelps proves that his training methods have been proven time and time again to be successful.
His regimen consists of focusing on technique with each stroke, strength training, interval workouts, and stretching.
You don't have to be a world-class athlete like Michael Phelps to experience the benefits of his type of routine; anyone can work towards their own fitness goals by committing to a regular workout program that includes the fundamentals of technique, strength, endurance, flexibility, and concentration.
This is how he achieved greatness in the pool; perhaps you too can experience similar success in whatever realm you choose to pursue!