Are you a volleyball player looking to improve your game? If so, you likely know the importance of having the right equipment, particularly when it comes to your footwear. Your shoes can make or break your performance on the court.
A good pair of volleyball shoes can provide you with the necessary support, cushioning, and traction you need to jump higher, move faster, and play harder.
Best Volleyball Shoes
However, with so many styles and brands on the market, it can be overwhelming to decide which pair to invest in. If you are serious about improving your volleyball game, it's time to invest in a pair of high-quality volleyball shoes.
From lightweight designs to excellent traction, there are many features to consider when selecting the best option for your needs.
In this article, we will break down the top volleyball shoes available and provide insight into what features to look for when making your purchase. Let's step up your game now!
Key Features To Look For In Volleyball Shoes
Traction And Grip
Traction and grip are paramount in volleyball shoes to prevent slipping on the court. Look for shoes with outsoles made of high-quality rubber and a pattern that provides excellent traction on both indoor and outdoor surfaces. The ability to maintain stability during quick movements, such as lateral shuffles and pivots, is crucial for effective gameplay.
Cushioning And Support
Volleyball involves repetitive jumps and landings, which can put significant strain on your feet and joints. Cushioning in the midsole helps absorb the impact and reduces the risk of injuries. Look for shoes with ample cushioning in the heel and forefoot areas. Additionally, proper ankle and arch support are essential for stability and injury prevention.
Breathability And Comfort
Volleyball is a high-intensity sport that often leads to sweating and discomfort. Opt for shoes constructed with breathable materials, such as mesh, to allow proper ventilation and airflow. Moisture-wicking properties can also help keep your feet dry and comfortable during long matches.
Durability
Since volleyball involves frequent lateral movements and quick direction changes, durability is a key consideration. Look for shoes with reinforced toe caps and side panels, as these areas often experience the most wear and tear. High-quality materials and construction contribute to the longevity of the shoes.
Top 6 Volleyball Shoes On The Market
With numerous brands and models available, finding the perfect pair can be overwhelming. That's why we've compiled a list of the top six volleyball shoes on the market to help you make an informed decision and enhance your performance on the court.
Best Womens Volleyball Shoes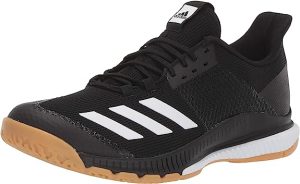 Adidas is renowned for its quality athletic footwear, and the Crazyflight Bounce 3 is no exception. With its Bounce cushioning technology, this shoe offers exceptional energy return and comfort. The supportive upper ensures a secure fit, and the grippy rubber outsole provides excellent traction for quick movements and jumps on the volleyball court.
Product Features:
Made with 100% Other fibers and a Man Made sole.
Adjustable lacing system for a secure, comfortable fit.
Mesh upper with lightweight molded TPU yarns provides extra support and durability.
Grippy rubber outsole designed for indoor surfaces.
Textile lining for extra comfort and breathability.
Regular fit with an eye-catching design.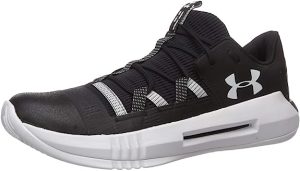 The Under Armour Block City 2.0 is a versatile volleyball shoe that excels in both performance and style. It features a lightweight and breathable upper with TPU overlays for added support and durability. The shoe's Charged Cushioning midsole absorbs impact and provides optimal responsiveness. Its rubber outsole offers excellent traction, making it a reliable choice for intense volleyball matches.
Product Features:
Imported and made of high-quality material.
Rubber sole offers a good grip on the court.
Synthetic midfoot panels provide durable support and stability.
Lightweight mesh in forefoot and toebox for increased breathability.
Webbed, lockdown lacing system for increased stability and a customized fit.
The breathable mesh tongue features woven wordmark tab detail.
Abrasion-resistant, TPU toe cap delivers maximum protection and durability.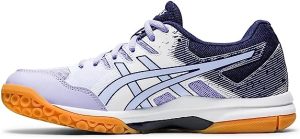 The ASICS Gel-Rocket 9 is a popular choice among volleyball players. Known for its comfort and stability, this shoe features gel cushioning in the forefoot to absorb shock and provide excellent support during lateral movements. Its gum rubber outsole ensures excellent traction on indoor courts, making it suitable for both beginners and experienced players.
Product Features:
Lightweight mesh upper with synthetic overlays
Foam-padded collar and tongue
Breathable mesh lining and cushioned footbed
Traditional lacing closure
Rear and Forefoot GEL Cushioning System
Molded-EVA midsole
Trusstic System Technology
Rubber and gum rubber outsole with more natural rubber content
Ideal for volleyball and other court sports.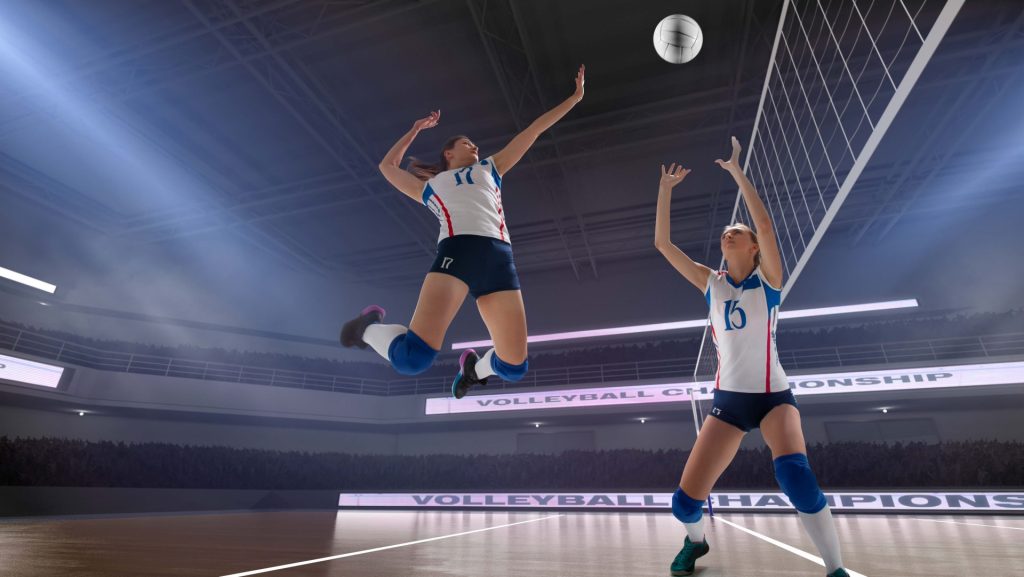 Best Mens Volleyball Shoes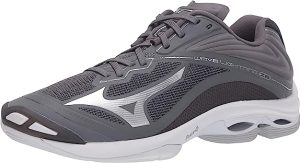 The Mizuno Wave Lightning Z6 is a high-performance volleyball shoe loved by professionals. It boasts a responsive and lightweight design, allowing players to move quickly and effortlessly. The shoe's Wave Fit technology ensures a snug and secure fit, while the innovative Mizuno Wave technology offers exceptional stability and cushioning, reducing the risk of injuries.
Product Features:
Imported with a durable rubber sole
The shaft measures approximately low-top from the arch for added ankle mobility
Eva midsole provides cushioning for a comfortable fit
Lightweight design that won't weigh you down during play
Wave technology provides both cushion and stability to get you through the entire match comfortably
D-flex groove offers a diagonal flexible groove, allowing players to turn at maximum speed and power by efficiently transferring natural body movement and shift in direction
360-degree, extremely breathable, engineered mesh offers added comfort and support during high-intensity games.
For players seeking a combination of agility and cushioning, the New Balance FuelCell Rebel is a fantastic option. This shoe incorporates New Balance's FuelCell technology, which provides a responsive and energized ride. The lightweight design allows for quick movements, while the rubber outsole offers great traction and stability on the court.
Product Features:
Rubber sole for superior traction on any terrain
FuelCell foam provides a lightweight, responsive ride
Engineered knit upper with no-sew overlays for a sleek design
Gusseted tongue for a comfortable, secure fit
Lace-up closure for added stability and support
6mm drop for a balanced fit
Ideal for all types of runs, from long distances to sprints.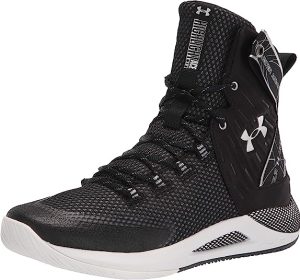 The Under Armour Highlight Ace 2.0 is a standout choice for players who value ankle support and stability. The shoe features an external heel counter and a high-cut design that provides excellent lockdown and stability during lateral movements. The Charged Cushioning midsole offers optimal comfort, and the herringbone traction pattern on the outsole ensures reliable grip on indoor surfaces.
Product Features:
Lightweight textile upper for flexible support and complete comfort.
Rubber sole for added durability and grip.
Mesh details in the forefoot for breathability.
Extended ankle collar for easy on/off and excellent retention.
Webbed, lockdown lacing system for increased stability and customized fit.
Breathable mesh tongue with woven wordmark tab detail for added style.
Choosing The Right Volleyball Shoes For You
Choosing the right volleyball shoes is crucial for enhancing your performance on the court and preventing injuries. With numerous options available, it's essential to consider several factors before making a purchase.
Considerations based on playing style and position: Your playing style and position greatly influence the type of volleyball shoes you should choose. For example, if you're a setter, you may need shoes that provide excellent stability and quick lateral movements. Hitters might benefit from shoes with cushioning for jumping and landing, while liberos might prefer lightweight and flexible options for quick defensive maneuvers.
Importance of trying on shoes and testing them before purchasing: It's highly recommended to try on different shoes and test them before making a decision. Every individual has a unique foot shape and size, and what works for one person may not work for another. Trying on shoes allows you to assess their fit, comfort, and support. Take some time to walk, jump, and perform lateral movements to ensure they meet your specific needs.
Budget considerations and value for money: While cost is a factor to consider, it's essential to prioritize value for money over a cheap price tag. Investing in a high-quality pair of volleyball shoes can provide better durability, support, and performance, ultimately saving you money in the long run. Look for shoes that offer a balance between price and features, considering factors like material quality, traction, and durability.
Personal preferences and comfort: Personal preferences play a significant role in selecting volleyball shoes. Some players prefer low-top shoes for increased mobility and flexibility, while others prefer mid-top or high-top options for added ankle support. Additionally, consider factors such as cushioning, breathability, and weight, as these can impact your overall comfort and performance during long hours on the court.
Conclusion
To excel in volleyball, investing in high-quality shoes is essential. The right shoes offer traction, cushioning, support, breathability, and durability, which significantly improve performance and reduce the risk of injuries. By considering the key features discussed and exploring the top five volleyball shoes on the market, you can find the perfect footwear to step up your game.
Remember to choose shoes that suit your playing style, try them on before purchasing, and prioritize your comfort and personal preferences.
With proper maintenance and care, your volleyball shoes will serve you well throughout your athletic journey. It's time to step up your game with the right footwear!