Are you looking for a way to improve your golf game? Look no further than your choice of golf gloves. Golf gloves are essential for any golfer looking to improve their grip and control of the club. However, not all gloves are created equal, and finding the right one for your game can make a difference.
Leather golf gloves are the top choice for serious golfers, offering a combination of durability, comfort, and grip that other materials can't match. This article will explore the best leather golf gloves on the market and what makes them stand out.
Whether you're a seasoned pro or just starting, upgrading your golf glove can be a simple yet effective way to take your game to the next level.
TOP 5 Golf Gloves
Top 5 Picks For Leather Golf Gloves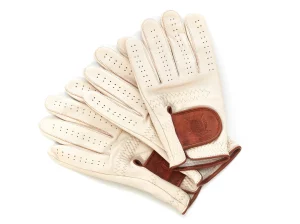 It is a masterpiece of handcraftsmanship made from high-grade Cabretta leather, known for its softness and durability. This premium golf glove is designed for style and functionality, with its cream and brown colors adding an elegant touch to your golf apparel.
Product Features:
Made from high-grade Cabretta leather for a soft and comfortable fit.

Handcrafted with attention to detail for a lasting and durable product.

Available in three sizes, Medium, Large, or XL, to ensure a perfect fit on any hand.

Available in both Right-Handed and Left-Handed versions to meet your unique needs.

Cream and brown colors add a touch of elegance to your golf apparel, making it stand out on the course.

Provides excellent grip and control of your golf club, even in wet or humid weather conditions.

Double-stitched seams ensure a secure fit and long-term durability.

Suitable for all levels of golfers, from beginners to professionals.
By choosing the HERITAGE Cream/Brown Leather Golf Glove, you choose a product that embodies high quality, functionality, and style. Perfect for any golfer looking to add a touch of luxury to their golf gear.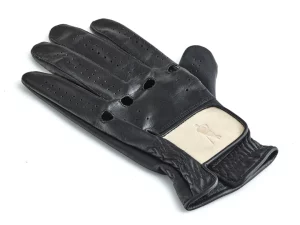 The PRO EXECUTIVE BLACK / CREAM LEATHER GOLF GLOVE (L/H) by MVP Golf Gloves is the perfect accessory for golf enthusiasts. Made from high-grade cowhide leather, this glove is built to last and provides optimum comfort during extended use. The classical design with modern appeal makes it a great addition to your golfing outfit.
Product Features:
Made from high-grade cowhide leather for durability.

Classical design with modern appeal gives it a stylish look.

Size available in Medium, Large, or XL for a perfect fit.

Optimum comfort and flexibility for improved grip and swing.

Perfect for golf enthusiasts who want to look stylish and feel comfortable.

The black and cream colorway adds a touch of elegance to any outfit.

Designed for left-hand use only.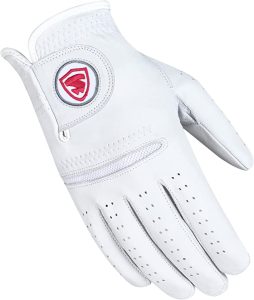 Sledwise Golf Gloves for Men are designed to enhance your grip and performance on the golf course. These gloves are made with superior-quality materials and an enhanced Velcro closure to provide a secure and comfortable fit. The soft and secure fit makes these gloves perfect for golfers of all levels.
Product Features
Superior grip and control on the golf course.

Enhanced Velcro closure for a more secure and comfortable fit.

Soft and secure fit for maximum comfort and grip.

Breathable fabric enhances ventilation and keeps your hands dry.

Improved design for added performance and durability.

Perfect for golfers of all levels.

Soft and durable construction ensures long-lasting use.

Available in different sizes to ensure the perfect fit for your hands.
Whether you're a seasoned golfer or a beginner who wants to improve your game, Sledwise Golf Gloves for Men is a perfect choice. Try them out today and experience the difference in your game!
The CaddyDaddy Claw Pro Men's Golf Glove is an excellent choice for golfers looking for added stability and superior grip on the course. This glove is well-ventilated and breathable, designed for left-handed players, and made with 100% synthetic materials that keep hands cool and sweat-free.
The Claw Pro's unique design offers a comfortable fit that conforms to the hand for unmatched grip and control. It features a textured palm that improves grip and a reinforced thumb for added durability. This glove also includes an adjustable closure to ensure a secure fit.
Product Features:
Added stability and superior grip

Specifically designed for left-handed players

Well-ventilated and breathable

Made with 100% synthetic materials

Textured palm for enhanced grip

Reinforced thumb for added durability

Adjustable closure for a secure fit

Keeps hands cool and sweat-free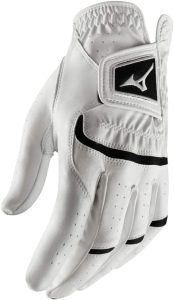 The Mizuno Elite Golf Glove is a top-notch glove for golfers striving to perfect their game. Crafted with professional-grade cabarets leather, this glove features a contoured fit for a natural feel and movement and double-stitch thumbs for added durability.
The cabarets leather palm provides exceptional grip and touch, ensuring your shots are always on point. The glove's design also prioritizes flexibility and breathability, allowing for comfortable, unrestricted swings.
Product Features:
Professional-grade cabarets leather palm for superior grip and touch.

Contoured fit for natural feel and movement.

Double-stitch thumb for added durability.

Flexible design for free swings.

Breathable construction to keep hands cool and dry.

Available in multiple sizes for a personalized fit.

Ideal for golfers of all skill levels.

Premium materials and construction for long-lasting durability.
Benefits Of Leather Golf Gloves
Here are just a few reasons why you should consider using a leather golf glove:
Better Grip, Even In Wet Conditions
A leather golf glove provides a better grip on your club, especially in wet or humid conditions. The leather's natural texture helps absorb moisture and prevent slipping, giving you more control over your swing and helping you hit the ball more consistently.
Improved Comfort And Durability
Leather gloves are known for their durability and long-lasting quality, making them a great investment for avid golfers. They are also soft and supple, molding to your hand over time for a comfortable fit that won't restrict your movement or cause discomfort.
Helps Prevent Blisters And Calluses On Your Hands
Golfers often experience blisters and calluses on their hands after hours of gripping and swinging their clubs. A leather golf glove can help prevent these painful and unsightly skin conditions by providing a protective layer between your hand and the club.
This allows for a smoother and more comfortable swing without the added risk of injury or irritation.
Adds Style And Sophistication To Your Golfing Attire
A leather golf glove is not only functional but also adds a touch of style and sophistication to your golfing attire.
With various colors and designs available, you can choose a glove that matches your style and makes you stand out on the course. A well-crafted leather glove is a classic fashion accessory that will never go out of style.
Features To Look For In A Leather Golf Glove
Material
Regarding leather golf gloves, you want to ensure you get genuine, high-quality leather. Look for gloves made from Cabretta leather, a thin, soft leather known for its durability and flexibility.
Some gloves may also be made from synthetic leather, which can be a good option for those who are vegan or want a more affordable option.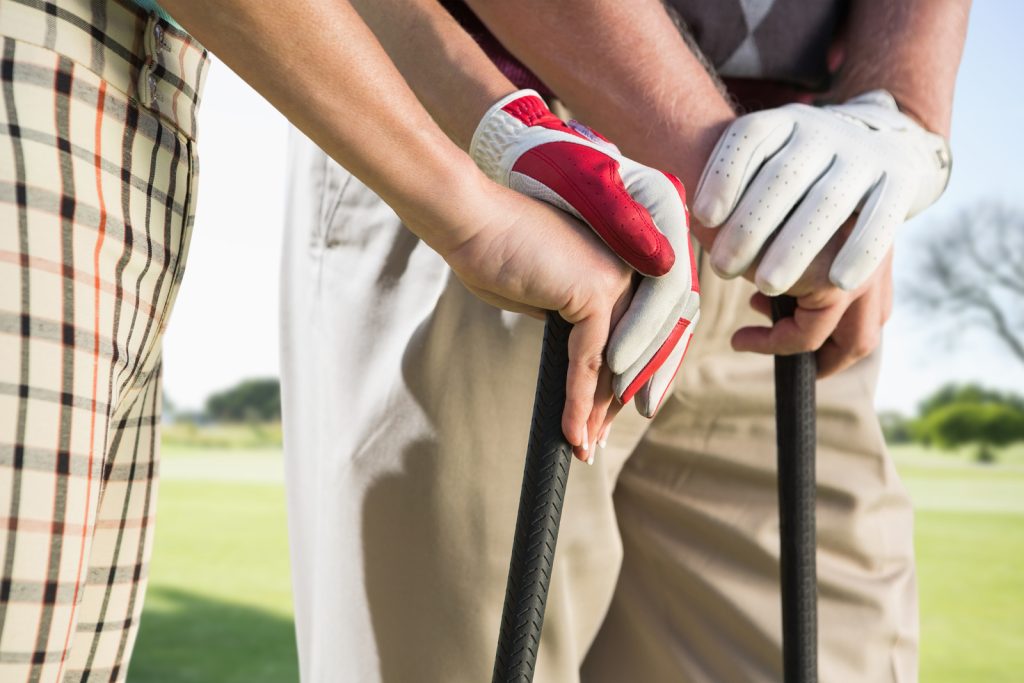 Fit
The fit of your golf glove is crucial for your game. You want a glove that is tight enough.
A too-tight glove can restrict your mobility and affect your grip, while a too-loose glove can slip and cause blisters. Try on gloves and test out different sizes to find the right fit for your hand.
Design
Perforated and ventilated gloves keep your hands cool and prevent sweat from building up. Look for gloves with perforations on the palm and fingers and on the back of the hand.
Ventilation can also be important for keeping your hands dry and comfortable during long rounds.
Reinforced Stitching And Elastic Closure
You want a glove that will last through multiple rounds and hold up to the wear and tear of your swing.
Look for gloves with reinforced stitching in high-wear areas, such as the palm and fingertips. An elastic closure can also help keep the glove secure and prevent slipping off during your swing.
Wrapping Up
Finding the right golf glove is essential to take your game to the next level, and leather golf gloves are a great option for players who value comfort, durability, and a classic look. With a good leather golf glove, you can improve your club grip, reduce blistering and calluses, and play longer and more comfortably. 
Whether you are a beginner or a seasoned golfer, investing in a high-quality leather golf glove is a smart move that will pay off in terms of performance and enjoyment on the course. So, why wait? Get your grip on your game today with the best leather golf gloves available on the market!