Have you ever thought about walking backwards on a treadmill? It may seem a bit strange, but did you know that doing so can actually provide numerous benefits for your health and fitness?
Treadmills are a popular form of exercise equipment because they are convenient and can be used in any weather condition. Yet, traditional treadmill workouts can become monotonous and may fail to challenge your muscles in different ways. This is where walking backward on a treadmill comes in.
Walking backward on a treadmill is an innovative twist to your regular workout routine that can provide a range of benefits for your body and mind. Whether you're looking for a more efficient way to burn calories, improve your balance and coordination, or simply add some fun to your exercise routine, this article will discuss the benefits of walking backward on a treadmill and how you can incorporate it into your workout regimen. So, let's take a step back and explore what does walking backward on a treadmill do.
Understanding Walking Backwards On A Treadmill
Walking backward on a treadmill involves simply reversing your walking motion and moving in the opposite direction. It may take some getting used to, but with practice, you can become proficient in this exercise.
Safety should always be a priority, especially for beginners. To ensure a safe and effective workout, it is important to start at a slow pace, maintain proper form, and hold on to the handrails for balance. Gradually increase the speed as you become more comfortable with the movement.
Physical Benefits of Walking Backwards On A Treadmill
Increased Lower Body Strength
Walking backwards engages different muscle groups compared to forward walking. It places a greater emphasis on the quadriceps, hamstrings, and glutes. This additional workload leads to improved lower body strength and muscle tone.
Improves Balance And Coordination
Walking backwards challenges your stability and coordination, as it requires greater focus and concentration. This improved balance can have a positive impact on various activities in your daily life. Athletes, in particular, can benefit from the increased balance and coordination achieved through walking backward on a treadmill. Additionally, older adults can use this exercise to enhance their stability and reduce the risk of falls.
Increased Joint Mobility
The repetitive motion of walking backwards on a treadmill helps to promote joint mobility and flexibility, particularly in the ankles and hips. This can be beneficial for individuals who spend a lot of time sitting or have limited range of motion.
Improved Cardiovascular Fitness
Walking backwards on a treadmill can elevate your heart rate and provide an effective cardiovascular workout. By increasing the intensity, duration, or incline, you can further challenge your cardiovascular system and improve endurance.
It offers a low-impact alternative to traditional cardio exercises, making it suitable for individuals with joint issues or those who prefer a less strenuous workout.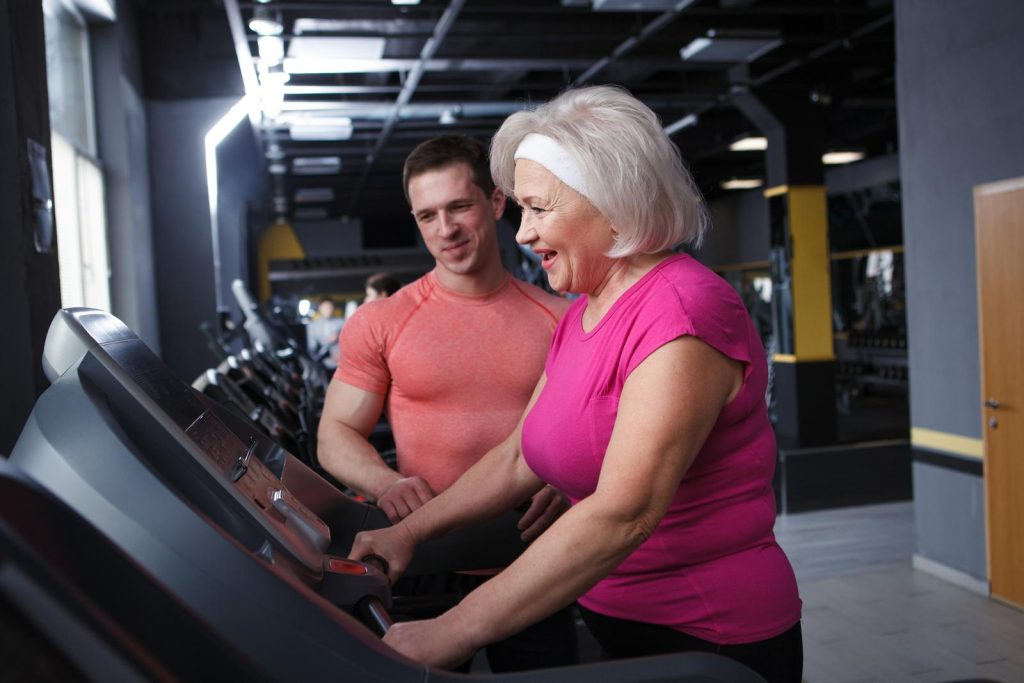 Mental And Cognitive Benefits Of Walking Backwards On A Treadmill
Enhanced Coordination
Walking backwards challenges your coordination and proprioception. Your brain must coordinate your movements and adjust your balance and foot placement accordingly. This can improve overall coordination skills and enhance the connection between the brain and body.
Increased Focus And Attention
Walking backwards on a treadmill requires heightened attention to your surroundings and body positioning. You need to pay close attention to maintain balance and avoid obstacles. This increased focus can help improve concentration and attention span in other areas of your life as well.
Improved Cognitive Function
It activates different neural pathways in the brain compared to forward walking. It requires your brain to process information in a novel way, stimulating various cognitive functions. This can lead to improved cognitive flexibility, memory, and problem-solving abilities.
Balance and Spatial Awareness
Walking backwards challenges your sense of balance and spatial awareness. It forces you to be more mindful of your body's position in space and adjust accordingly. Over time, this can improve your overall balance and spatial orientation skills.
Brain Plasticity
Engaging in activities that are different from your usual routine can promote brain plasticity, the brain's ability to reorganize and form new neural connections. Walking backwards on a treadmill can stimulate neuroplasticity, which is crucial for maintaining a healthy brain and preventing cognitive decline.
Stress Reduction
Physical exercise, including walking, is known to reduce stress and improve mood. Walking backwards on a treadmill adds an element of novelty and challenge, which can further distract the mind from stressful thoughts and promote relaxation. It can also help release endorphins, the feel-good hormones, which contribute to a more positive mental state.
Remember, it is essential to exercise caution and ensure your safety when attempting any new physical activity. Start slowly, maintain a firm grip on the treadmill's handrails, and gradually increase the intensity as you become more comfortable and confident with walking backwards on a treadmill.
Variations And Progressions For Walking Backwards On A Treadmill
To keep your workout interesting and continually challenge yourself, there are various ways to vary the intensity of walking backwards on a treadmill. You can adjust the speed, incline, or duration to increase the challenge.
Gradual Incline: Start by walking backwards on a flat surface, then gradually increase the incline on the treadmill. This will intensify your workout and give your leg muscles a challenge.
Lateral Steps: Incorporate lateral steps into your backwards walk by stepping laterally with each foot, alternating between right and left.
Skipping Steps: This is an advanced variation where you jump and land on every other step with each leg. Make sure to keep your core engaged and your movements controlled.
Side Shuffles: Shuffle side-to-side on the treadmill while walking backwards. This will engage different muscles and add a new challenge to your workout.
High Knees: Lift your knees high with every step. This variation adds an extra challenge to your leg muscles and increases your heart rate.
Hip Swings: Swing your hips side-to-side with every step, which targets your oblique muscles and encourages proper posture.
Mini Hops: Take small hops with each leg while walking backwards on the treadmill. This variation will increase your heart rate and build lower leg strength.
Remember to incorporate these exercises gradually into your routine and listen to your body to avoid injury. Always warm up before your workout and stretch afterward to prevent soreness and maximize your results.
Precautions And Tips For Walking Backwards On A Treadmill
While walking backwards on a treadmill can be a rewarding exercise, it's important to follow safety precautions and implement some tips to ensure a safe and effective workout.
Warm Up
Before walking backwards on a treadmill, make sure to warm up your muscles to prevent any injuries. Take a few minutes to stretch your legs, hips, and lower back. This will prepare your body for the workout ahead.
Start Slowly
If you're new to walking backwards on a treadmill, it's essential to start at a slow pace. Increase your speed gradually and make sure you're comfortable before increasing the pace further. Walking backward at a high speed can be risky and increase the chance of tripping or losing your balance.
Use the Right Settings
Using the treadmill while walking backward requires different settings compared to walking forward. Most treadmills have a specific setting for walking backward, so make sure to use it. Starting at a low speed with a steep incline can help you get used to the movement.
Stay Focused
When walking backward on a treadmill, it's crucial to stay focused and alert to your surroundings. Keep your eyes on the platform, and avoid distractions like watching TV or using your phone. Losing focus can cause you to lose balance and fall.
Maintain Good Posture
Keeping good posture while walking backward on a treadmill is crucial. Maintain a straight back and keep your head up to avoid any potential harm to your neck. Avoid leaning too far back or forward as well.
Stop Gradually
When you're finished with your workout, ensure that you stop gradually. Don't stop abruptly or jump off the treadmill as it can cause injuries. Always let the treadmill come to a complete stop before stepping off.
Conclusion
Walking backwards on a treadmill may seem unusual at first, but the benefits it offers are worth exploring. By engaging different muscle groups, improving balance and coordination, enhancing cardiovascular fitness, boosting focus and concentration, and stimulating brain activity, this exercise technique provides a holistic workout experience.
So, why not give it a try? Incorporate walking backwards on a treadmill into your exercise routine and experience the advantages firsthand. Embrace the unconventional and unlock the potential of this unique fitness technique.