Whey protein is a trendy supplement for anyone looking to build muscle, lose weight, stay healthy, and improve their fitness goals. Not only is it incredibly affordable and easy to find, but it also has a ton of great benefits.
But what do you mix with whey protein? What should you look for and what kinds of ingredients can you add to make delicious shakes and smoothies? In this article, we'll answer those questions and provide plenty of options for the perfect whey protein mix-ins.
FROM HEALTHY FRUITS AND VEGETABLES TO NUT BUTTER, SPICES, AND MORE, THERE ARE MANY WAYS TO CREATE NUTRITIOUS AND DELICIOUS SHAKES AND SMOOTHIES WITH WHEY PROTEIN.
Whether your goal is building muscle or losing weight, these recipes will help you reach your health goals as quickly as possible. With the right combinations of ingredients, you can transform your bland whey shake into an excitingly flavorful meal replacement that packs in all the nutrients you need!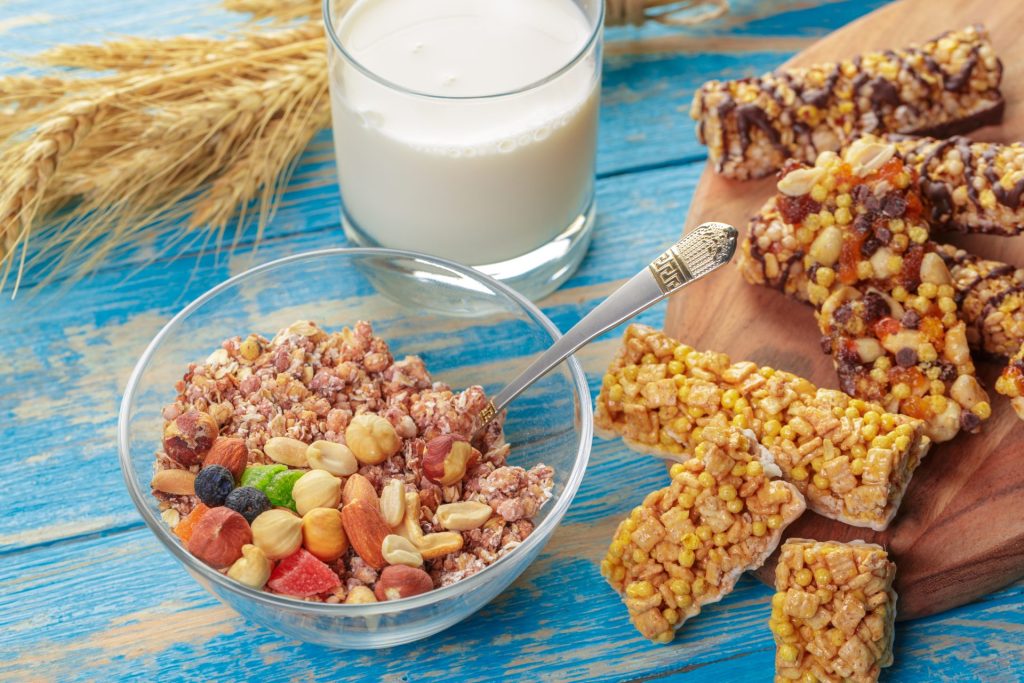 What To Mix With Whey Protein For Optimal Nutrition
Here are some ideas for what to mix with whey protein that will give your shake an extra nutritional boost.
Greek Yogurt
Greek yogurt is one of the most popular options for mixing with whey protein. Not only does it provide a creamy texture that tastes great, but it also adds additional protein and healthy fats that are beneficial for muscle growth.
Greek yogurt also contains probiotics which can help improve digestion and gut health. In addition, greek yogurt has fewer carbs than regular yogurt so it won't add unnecessary calories to your shake.
Coffee
Coffee is another popular option for mixing with whey protein because of its unique flavor profile. Coffee adds an extra kick of energy without adding any additional calories or sugar.
In addition, coffee contains antioxidants which can be beneficial for overall health and wellness. Just be sure not to go overboard on the caffeine – too much can lead to negative side effects such as jitters or restlessness.
Pancakes
Believe it or not, pancakes make great additions when mixed with whey protein! They provide plenty of carbohydrates for energy throughout the day and contain protein thanks to ingredients like eggs and milk (or non-dairy alternatives).
Additionally, pancakes add texture and flavor without adding too many additional calories or fat content – making them perfect for those looking for something a little different in their shakes!
Fruits And Vegetables
Fruits and vegetables are incredibly nutritious and make a great addition to any whey protein shake. Not only do they provide essential vitamins and minerals, but they also contain fiber which helps fill you up longer and aids in digestion.
SOME GOOD OPTIONS ARE
BANANAS,
BLUEBERRIES,
STRAWBERRIES,
APPLES,
SPINACH,
KALE,
CARROTS,
BEETS,
CELERY,
SWEET POTATOES, OR
SQUASH.
You can either blend them up into the shake or even just add them as toppings after blending them all.
Furthermore, if you don't like the taste of raw fruits and veggies in your smoothie—or don't have time to cut them up—you can always opt for frozen versions of these items instead.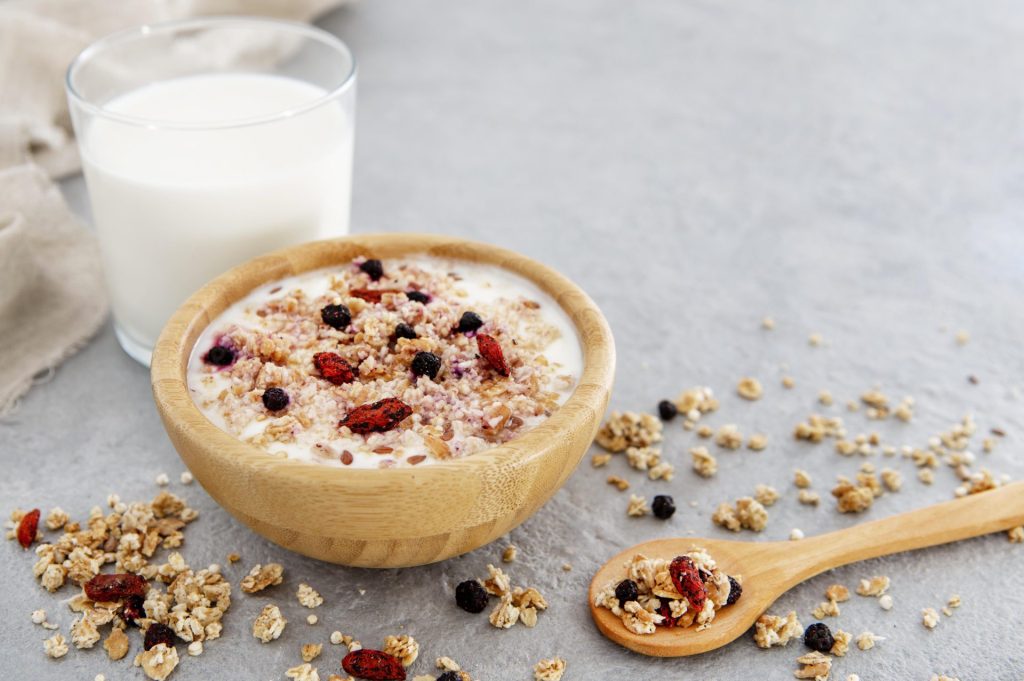 Oats
Oats are an excellent choice for mixing with whey protein because they are high in complex carbohydrates and fiber. This combination helps to regulate blood sugar levels and minimize cravings while providing lasting energy throughout the day.
Oats also contain a wide range of vitamins and minerals, making them an ideal addition to your shake.
FOR BEST RESULTS, MIX ONE SCOOP OF WHEY PROTEIN WITH 1/2 CUP OF OATS AND 8-12 OUNCES OF LIQUID (WATER OR ALMOND MILK WORK WELL).
Nuts & Seeds
Nuts and seeds are high in healthy fats that provide energy but also help keep you feeling full longer than carbohydrates alone would. They also contain fiber to aid digestion as well as vitamins and minerals like Vitamin E which has antioxidant properties that can reduce inflammation.
Nut butter is also a great addition to a whey protein smoothie because it adds creaminess without adding too much sugar or calories from other sources like dairy milk or yogurt would do otherwise.
POPULAR NUT CHOICES INCLUDE
ALMONDS,
WALNUTS,
CASHEWS, OR
PEANUTS
WHILE PUMPKIN SEEDS,
SUNFLOWER SEEDS, OR
CHIA SEEDS MAKE GOOD SEED-BASED ADDITIONS.
Healthy Fats & Oils
Healthy fats & oils such as olive oil (extra virgin is preferred), coconut oil or avocado oil are all excellent sources of healthy fats that will not only add flavor but also help keep you fuller longer by slowing down how quickly your body absorbs sugars from carbohydrates such as fruit juices or simple carbs found in processed foods like cereal bars—which can cause spikes in blood sugar levels if consumed in excess).
Additionally, they provide essential fatty acids like omega-3s that our bodies need to function properly.
Coconut oil is especially beneficial because it contains medium chain triglycerides (MCTs) which have been shown to increase metabolism for faster fat-burning potential!
Avocado oil has more of an earthy flavor so it may be better suited for savory recipes rather than sweet ones such as smoothies with whey protein powder mixed in but either one will still provide beneficial fatty acids without being overly caloric dense like other oils such as vegetable oil might be.
Lastly, nut butter (mentioned above) is another source of healthy fats so feel free to use any combination of these three depending on your preference!
Herbs & Spices
Herbs like mint, basil, oregano, thyme, and rosemary can be added to enhance the flavor of your shake while also providing anti-inflammatory benefits that support muscle recovery after intense workouts.
Turmeric is another great option because of its potent antioxidant properties which can help reduce inflammation caused by exercise-related stress on the body.
Last, cinnamon is a great addition due to its high levels of antioxidants which promote healthy cell growth and metabolism in the body. It also adds sweetness without any added sugar!
Are Whey Protein Shakes Keto Friendly?
In short, yes—if you choose the right kind! When selecting a whey protein shake for your keto/low-carb diet, make sure it contains no added sugars (which will kick you out of ketosis) or other unnecessary ingredients like fillers or preservatives.
Also, check the carb content; many whey proteins are made with milk (which contains lactose, a type of sugar) so they have more carbs than other proteins like egg white or plant-based proteins.
How To Use Whey Protein Shakes On A Low Carb Diet?
The best way to use whey protein shakes on a low-carb diet is as part of your meal replacement program or after workouts.
When used as part of your meal replacement program simply replace one or two meals with a shake daily; this will help keep your calorie intake down while still providing essential nutrients and vitamins needed for energy production throughout the day.
After workouts using whey protein shakes can help replenish lost energy stores while rebuilding muscle tissue damaged during exercise; try consuming one within 30 minutes after completing your workout session so that your muscles receive all necessary nutrients quickly!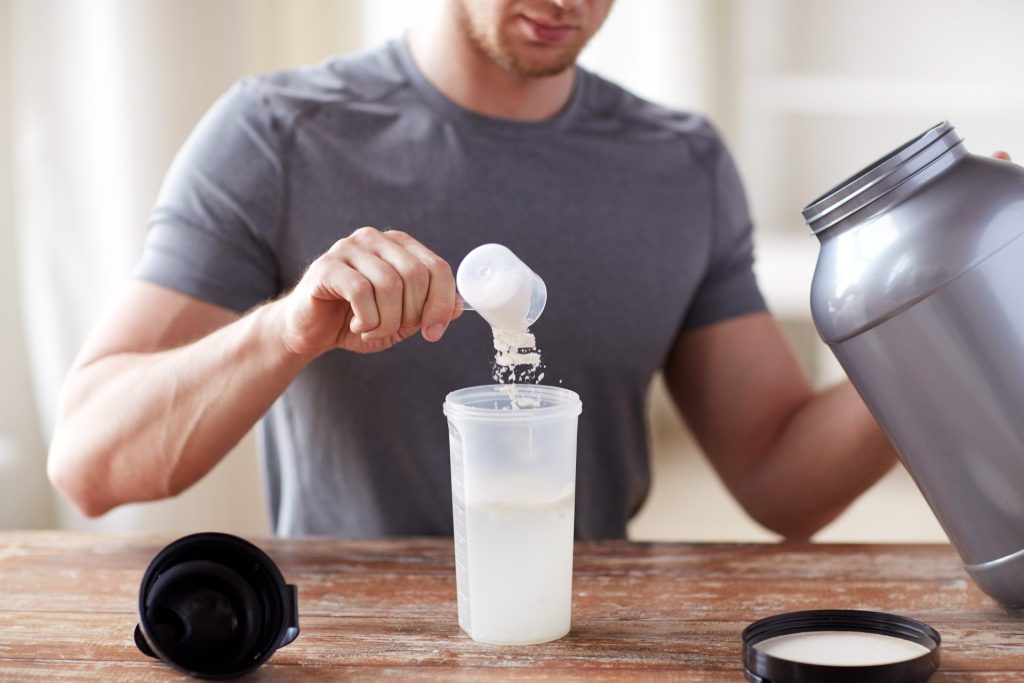 Conclusion
Whey protein is an excellent source of nutrition for people who want to build muscle, lose weight, and increase their overall health. It can be mixed with a variety of beverages and foods to create delicious and nutritious shakes, smoothies, or meals.
Adding superfoods like fruits and vegetables helps to boost the nutritional value of your shake even further. For those looking for a little extra flavor, consider adding natural sweeteners like honey or maple syrup.
Experimenting with different flavors will ensure that you don't get bored with your whey protein shakes! No matter how you choose to mix it, whey protein is an incredibly versatile supplement that can help take your fitness routine to the next level.
SO WHAT ARE YOU WAITING FOR? START EXPERIMENTING TODAY TO FIND YOUR FAVORITE RECIPES THAT WILL HAVE YOUR TASTE BUDS SINGING!